Step into a whimsical, 3.5-acre garden in Sheboygan and let your imagination lead you on an enchanted literary adventure! Bookworm Gardens is an outdoor botanical garden that is inspired by classic children's books. Families will enjoy exploring the beautifully designed spaces, listening to the sounds of nature, and relaxing in the shade with an adventurous story.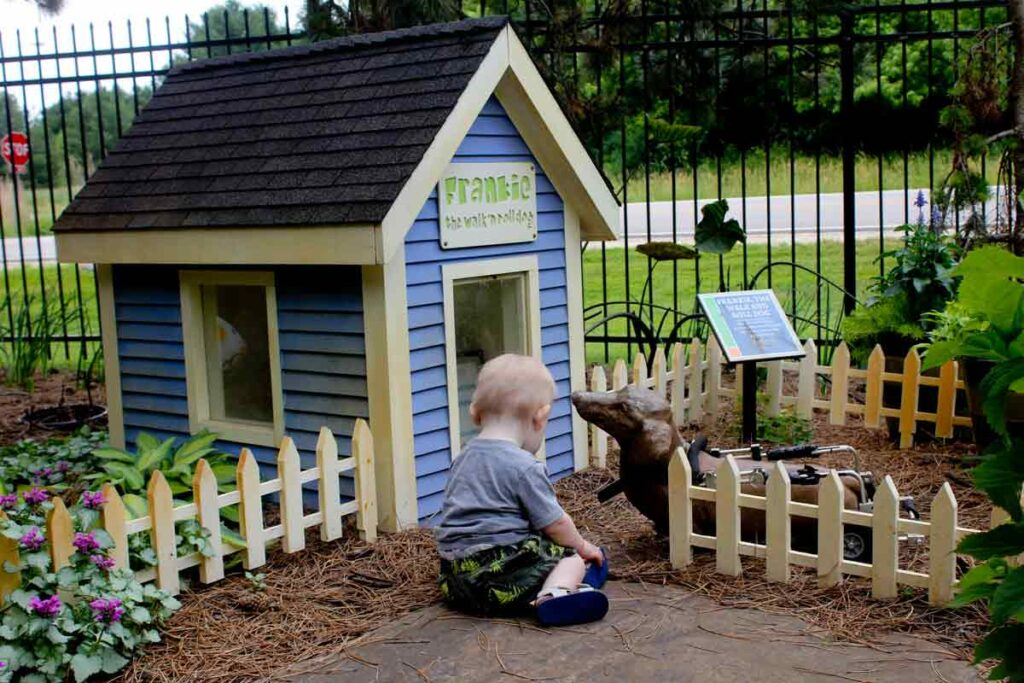 Bringing Books to Life
Open seasonally, there are over 70+ books available throughout the vibrant gardens. Books can be found in each section and match the area's theme.
Children can read with their families, discover new favorite characters and feel like they are in the story with life-size props, decorations and play areas from the book.
Best of all, the pathways around the gardens are easy to maneuver and are inclusive to all abilities. This allows children of all ages to get creative and connect with their favorite books!
Enjoy experiences and stories like:
Charlotte's Web: Visit the barn and find the 'Some Pig' spider web
Little Blue Truck: Hop in and drive the animal friends
Winnie the Pooh: Ring the bell on the tree
Growing Vegetable Soup: See a real veggie garden
Horton Hatches an Egg: Find the giant egg nest
Download the current book list to see the featured titles or come be surprised as you find them in the garden!
Additional Sections Include: Welcome, Animals, Creative, Memory, Farm, Learning Cottage, Pond + Wetland, Woodlands and Readers Roundup Garden.
Find out more about Bookworm Garden events like Fairyfolk Festival in July, Goodnight Moon Picnic, Haunted Gardens, Frost Fest and more!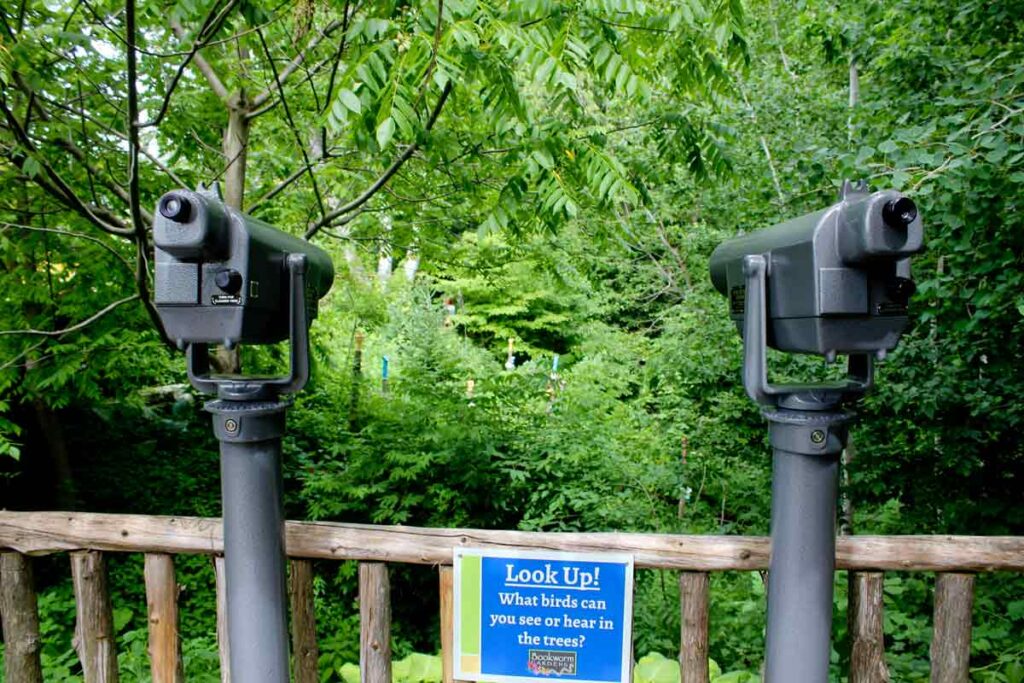 A Diverse Sensory Experience
Children will be inspired to use all of their senses during their visit. In the sensory garden, signage includes playful prompts like, "what can you hear, feel or smell?" This is a great opportunity to develop observational skills and to discuss colors, shapes, scents and types of flowers.
Along the way, get hands-on in the log cabin in the woods with bowls and cups to make play food with grasses and sticks, build fairy houses, dig for dinosaur bones, ring the bird bell in Mr. Sanders' tree, watch live chickens in their coop, hide like a bunny in McGregors she'd, and a summer favorite, play with water and wash Harry the dirty dog!
The gardens are not too loud but peaceful and fun with their ample, airy space. Although there are also many more simple experiences that provide a gentler sensory experience. Those who prefer a little solitude will enjoy watching bright orange and white Koi fish swim in the pond near the lighthouse, snuggling up with a book in the Magic Tree House and playing iSpy through the barn window peeks into the greenhouse. There is something for everyone in the garden and many adventures that await!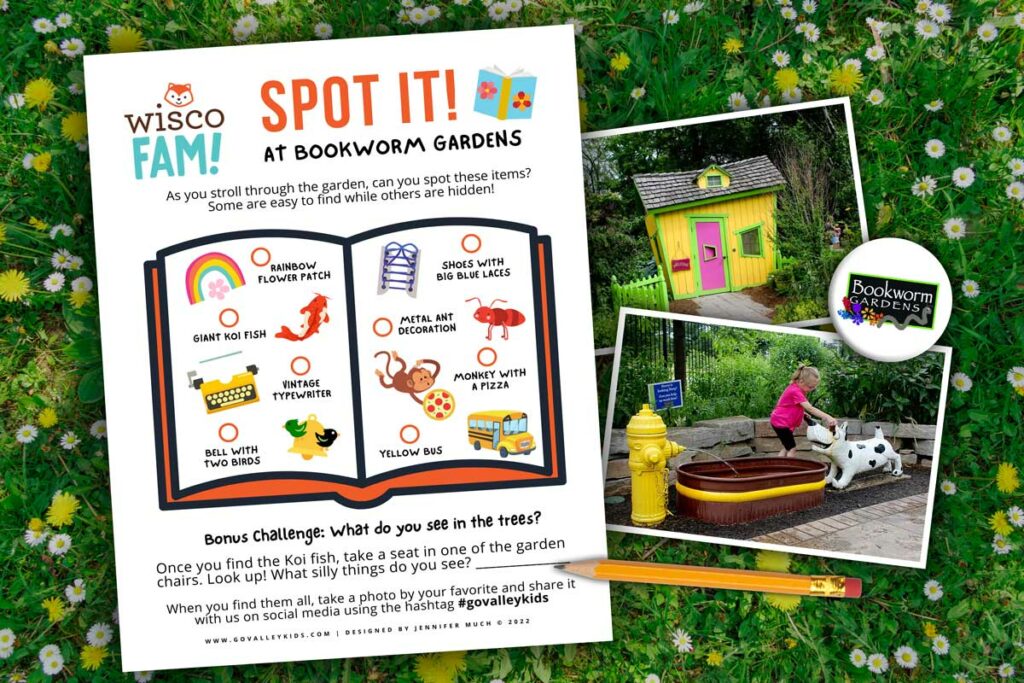 Spot It in the Garden
As you explore the gardens, can you find the following items? Download our FREE Bookworm Gardens printable!
Rainbow Flower Patch
Giant Koi Fish
Vintage Typewriter
Bell with Two Birds
Shoes with Big Blue Laces
Metal Ant Decoration
Monkey with a Pizza
Yellow Bus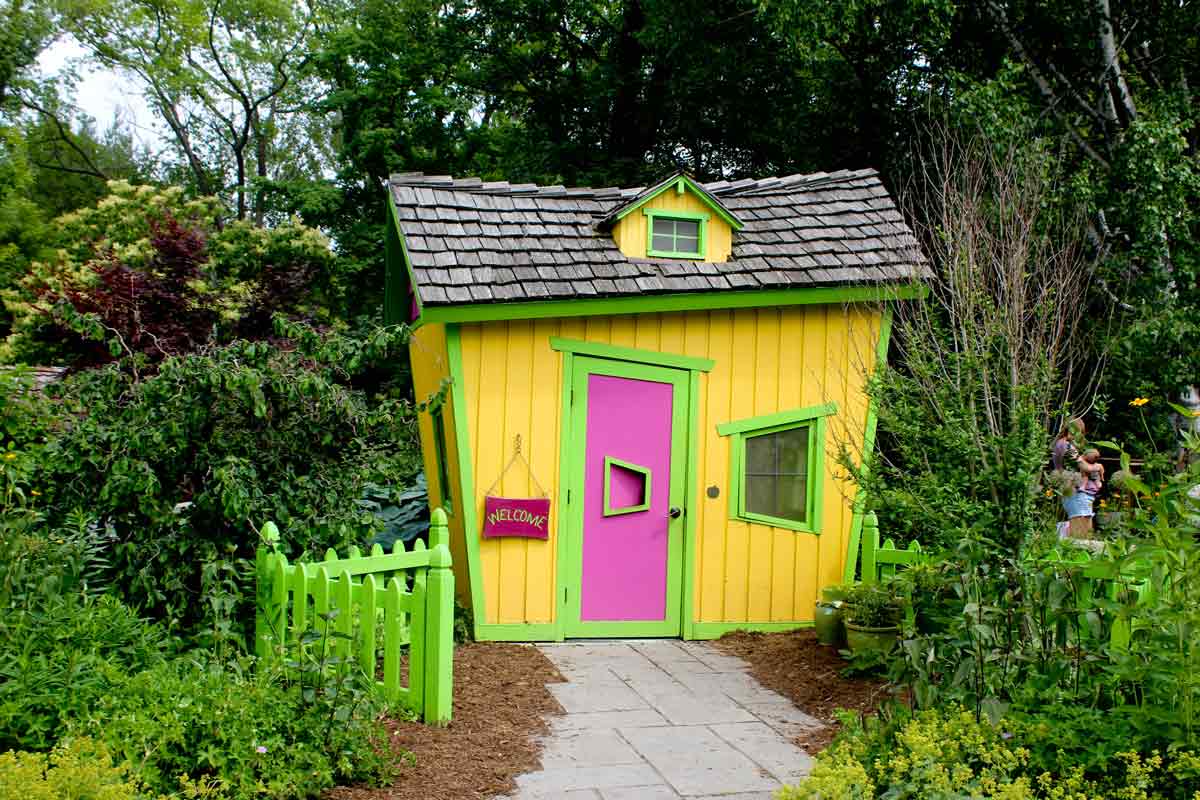 Plan Your Visit
Encourage literacy, exploration, and joy with a visit to the gardens! Pre-registration is recommended and includes a discount, however, tickets can also be purchased at the door.
Families can easily spend 2-3 hours on-site playing, reading and spending time together. Pack a lunch and enjoy it at one of the many picnic tables near the Magic School Bus. Please note, everything brought in must be carried out and all food should be consumed in this area.
Accessible family restrooms with baby changing areas are available on-site. There is also a bubbler with a filtered water bottle filling station for visitors.
Before heading home, stop by the little cart filled with creative trinkets and books. Pick up a Seed Ball kit and grow your own wildflowers, make a terrarium or bring home your favorite book to read!
Bookworm Gardens, 1415 Campus Drive, Sheboygan

Season: Open May 1 – October 31, 2022
Summer Hours (June – August):

Tuesday – Sunday: 9 am – 5 pm
Closed Mondays

Fall Hours (September – October)

Wednesday – Friday: 10 am – 4 pm
Saturday – Sunday: 9 am – 5 pm
Closed Mondays and Tuesdays

Pre-Registration Pricing: $8/person (ages 3+), children under 2

Residents of Sheboygan and Bookworm Members are FREE

At The Door Pricing: $10/person (ages 3+), Residents of Sheboygan are $2, and Bookworm Members and children under 2 are FREE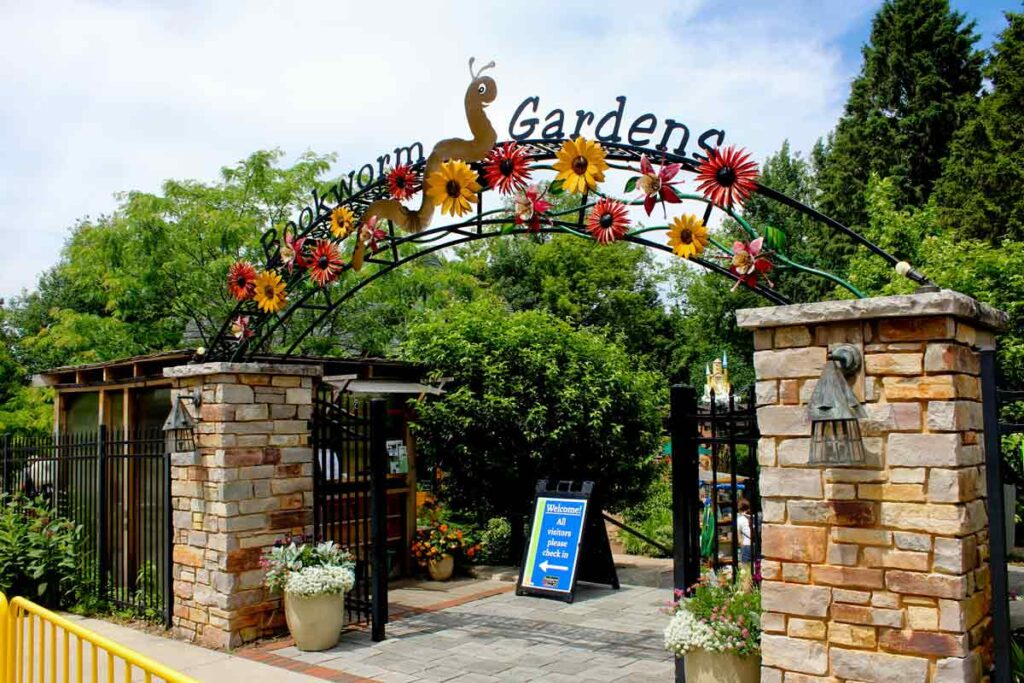 Other Family Fun Things to Do in Sheboygan
Visit a Lake Michigan Beach! Point Beach, Neshtoha Beach, and Kohler-Andrae State Park are all beautiful options for cooling off on a summer day after touring the gardens.
Shaw Family Playground, 2614 Pine Grove Avenue, Sheboygan
Above & Beyond Children's Museum, 902 N. 8th Street #4005, Downtown Sheboygan