You've got your RV all set to pull into a perfect site, and you're looking for an excellent campground to set up for a stay in a fun area to explore. We've got 14 awesome options to plan your next great getaway with the whole family!
The Oshkosh area is one of the best places to set up camp in Northeast Wisconsin to enjoy a peaceful, lakeside setting and have easy access to family-friendly activities, events, and destinations.
These campgrounds offer families a comfortable and fun home base for an RV camping trip. You'll find a variety of amenities and offerings that set them apart and make them a great spot for kids to play and have fun while parents join in and still have plenty of opportunities to relax.
Looking for more ideas? These campgrounds have waterparks!
Editor's Note: Campgrounds fill really quickly during EAA AirVenture—make your reservations early!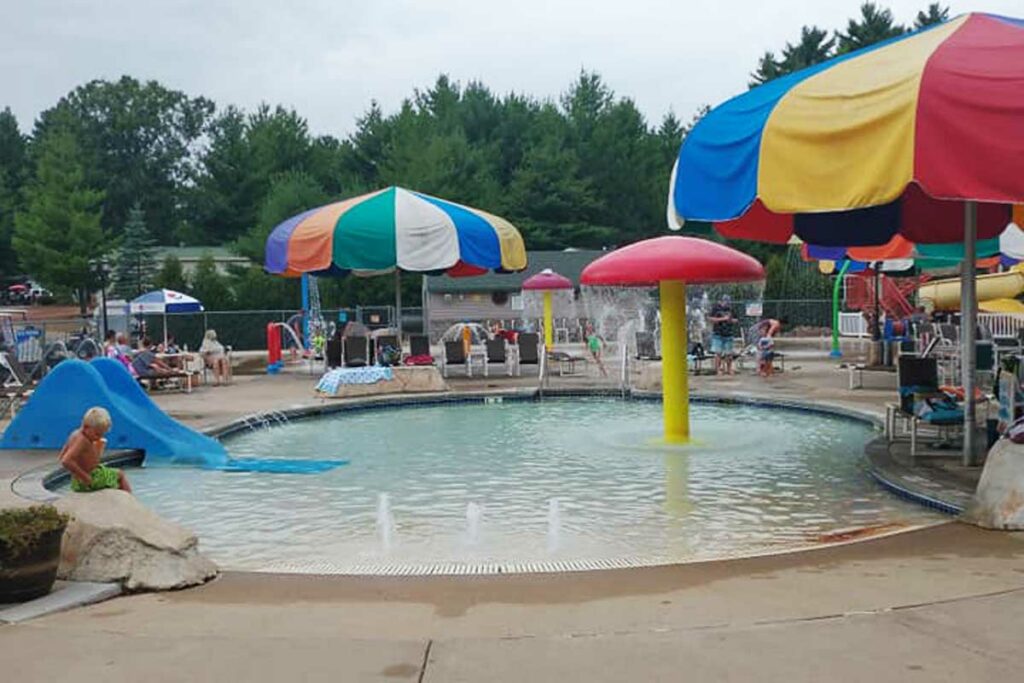 1. Evergreen Campsites & Resort
Just 51 minutes from Oshkosh, this Evergreen Campground has so much to offer! Major bonus: You can get delicious pizza delivered right to your campsite! 
The pool area is fantastic, with something for the whole family. You'll find a fun adults-only swim-up bar, a kids' pool, and a splash pad—the kids will love this!
There is a very clean and sandy beach area. Bring your paddle board and floats to enjoy the crystal-clear water that is fairly shallow and perfect for water play.
There are 246 campsites, RV sites, and beautiful cabins available to rent!
Other features:
game room
dog park
express train
playground
mini golf
fishing pond, and so much more!
Book a site early because they fill up quickly for the summer season!
2. Green Lake Campground
Just 41 minutes from Oshkosh, this beautiful family resort offers many fun things for families during their stay. You will love the all-inclusive camping style and amenities, including:
4-pool aquatic center
par 3 nine-hole golf course
general store
coffee shop
beach
playground
fishing 
The 132-acre campground has 370 campsites and 5 cabins available for rent.
3. Circle R Campground
Circle R Campground, right inside Oshkosh, has 13 acres that can accommodate large groups or clubs, family reunions, and other special events. There is a small swingset and park area for the kiddos, but this is a simple campground and very basic, with no pool or extra kid attractions. This campground is a great place for a stay during EAA AirVenture.
4. Sleepy Hollow Farm Campground
This family-friendly campground is located in Oshkosh with 82 RV sites and many tent site options. There is a bar and grill, hiking trails, two new shower houses, a camp store, and a swimming pond beach area with brand new inflatables! It is just a short drive to the shores of Lake Winnebago for boating, fishing, and swimming!
5. Apple Creek Campground
This family-friendly campground and RV park is just 36 minutes from Oshkosh. During your stay, your family can fish in the stocked pond, swim in the heated swimming pool, play at the playground, or have fun in the game room. They offer campsites for RVs, tents, and cabins on-site.
Camping season here is from April 1st to October 31st!
6. Fond du Lac East / Kettle Moraine KOA
Set on 103 acres of beautiful landscape, this secluded RV park and campground makes for a peaceful oasis just 55 minutes from Oshkosh. Fond du Lac East/Kettle Moraine KOA features short-term and long-term RV sites, tent sites, and vacation rentals in a natural setting.
This is one of the best places for families to have a good time during their camping adventures! You can swim in one of three heated swimming pools, then indulge your sweet tooth with an ice cream cone at the snack bar before trying for a hole-in-one at the mini golf course. They also have shuffleboard, pickleball, basketball, and sand volleyball courts.
7. Wilderness Campground
This fun, kid-friendly campground is 75 minutes from Oshkosh in Montello. Beautifully nestled in the Wisconsin countryside between three tranquil lakes, Wilderness Campground offers an escape into the great outdoors with endless family fun! They have four bathhouses, a dog park, a beach area for swimming and fishing, a snack shack cafe, and a heated pool.
8. Breezy Hill Campground
Breezy Hill Campground is only 33 minutes from Oshkosh. There is a beach and a swimming pond for campers to relax and play in the warmer seasons. The campground also organizes movie nights, wagon rides, and themed weekends. Other amenities include Wi-Fi, ball courts, and a heated pool with a hot tub.
On-site, there is a dump station, recycling station, and propane filling station. Plus, if you need to stock up on supplies, you can shop at the campground's convenience store.
You can take your dog to play in the dog park, and horse owners can book a paddock in the horse boarding stables!
9. Grand Valley Campground
Grand Valley Campground is a family-friendly campground 65 minutes from Oshkosh in Kingston, WI. They offer an array of fun!
miniature golf
game room
Playground
dog park
beach swimming
swimming pond with inflatables
themed activities and weekends
Special events
heated pool
horseshoes
free wi-fi throughout the campground
They also have free showers, laundry facilities, clean restrooms, propane refills, and a full-service kitchen to eat your favorite meals!
10. Playful Goose Campground, Horicon
Playful Goose Campground is 57 minutes from Oshkosh, in Horicon, WI. This is a quiet campground with lots of space. The Playful Goose Campground on the Rock River offers 156 acres of fun and relaxation.
This pet-friendly campground offers:
an indoor swimming pool
game room
shuffleboard
horseshoes
2 playgrounds
fishing along the shore
canoe rides!
If you love a spacious campsite and want to experience a vast amount of wildlife, then this is the place for you and your family!
11. Kinney Lake Campground, Marion
Kinney Lake Campground (formerly known as Farmer Gene's) is only 65 minutes from Oshkosh. This is a great campground for families, with 500 campsites and a large play area for the kiddos. They offer a large pool, a kiddie pool, a hot tub, golf cart rentals, a full-service restaurant, and two bathhouses. They offer free kid's activities, free miniature golf, a fun wooden train, and kids can even jump on a fun wagon ride! New updates and expansion for 2023.
New in 2023, a 1.5-acre aquapark pond with Wibit water inflatables
12. Waupaca S'more Fun Campground, Waupaca
This popular campground is just 43 minutes from Oshkosh in Waupaca, WI. Waupaca Smore Fun Campground tries to make sure everyone in the family has fun! They offer a swimming pool, a fun playground, a convenience store, and a fun game room.
If you don't have a camper, bring a tent or check out their cabins and yurts to enjoy this destination!
13. Huckleberry Acres Campground, New London
This super fun campground is only 33 minutes from Oshkosh. Adults can have fun at the onsite tiki bar and enjoy Taco Tuesday at the on-site restaurant. The kiddos can play at the playground or swim at the large beach pond area. They also offer a fun arcade and mini golf to enjoy!
14. Hickory Oaks Campground, Oshkosh
Hickory Oaks is a family-run campground and has transitioned to a monthly rental-only campground for the 2023 camping season due to staffing shortages and personal health issues. But if you're looking for a spot for a long-term rental in a beautiful setting just minutes away from the Oshkosh area's premier summer events with an airport, this is your spot!