One of the best ways to soak up the summer months is a long, leisurely afternoon at the pool! If you are looking for a bit of a bigger adventure without heading down to Wisconsin Dells, Pollock Community Water Park has you covered right here at home in Oshkosh.
A miniature "Noah's Ark," this water park boasts 2 winding water slides (one with a tube, one without), a lazy river with waterfalls and water buckets to get wet, a zero-entry 16,500-square-foot swimming pool, basketball hoops, 3,500-square-foot water playground splash zone (splash pad), sand play area, 1-meter diving board, and concession stands.
Depending on how many kids you have (and their ages and temperaments), it might be a two-person job keeping a watchful eye. However, if you have an older crew, you might want to bring them on down for an all-day adventure while you soak up the rays on a lounge chair reading a book.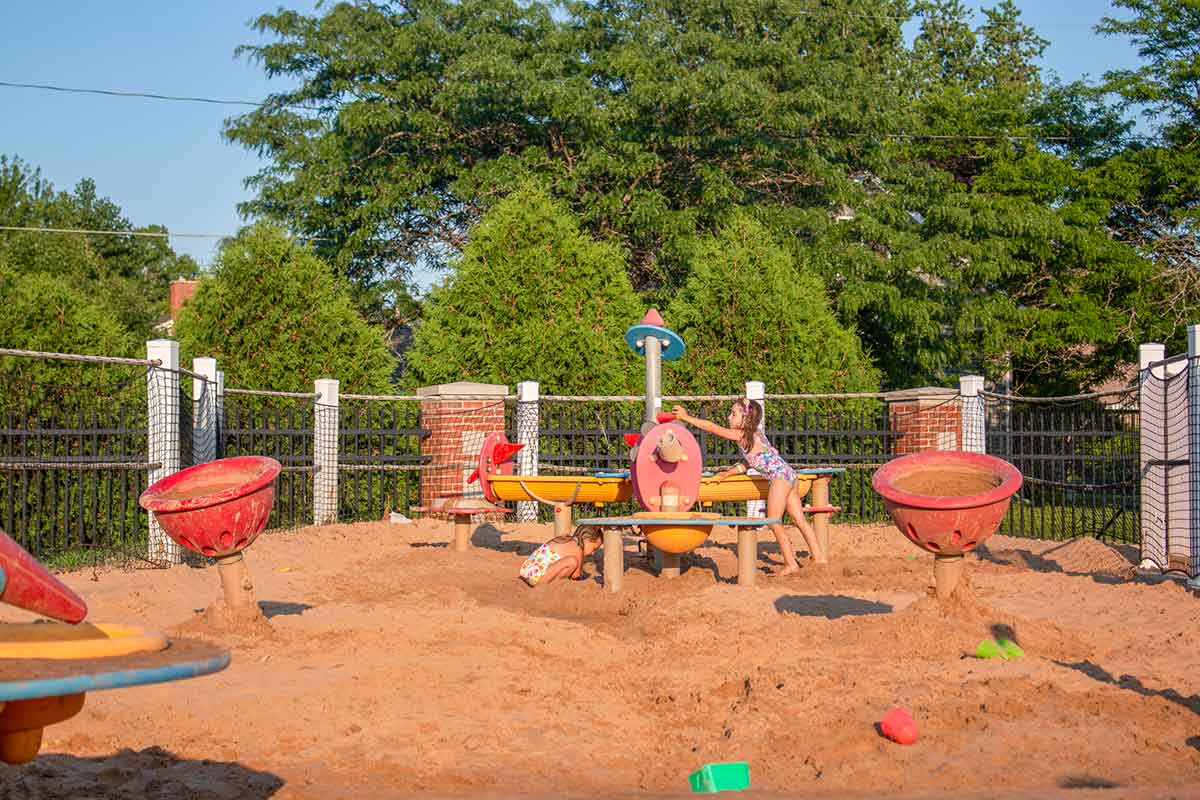 Frequently Asked Questions – Things to Know Before you Go
Are life jackets allowed?
Only U.S Coast Guard approved lifejackets, plastic masks, fins and kickboards are allowed. Water wings, inner tubes, noodles and swimsuits with built-in floatation devices are NOT allowed.
Are carry-ins allowed?
No carry-ins are allowed, including coolers, glass, plastic or aluminum containers
Are swim diapers required?
No regular, cloth or disposable diapers are allowed within the water park. All children that wear diapers or are not toilet trained shall wear a swim diaper. A swimsuit shall cover the diaper. Swim diapers can be purchased at the admissions window. Diaper changing on the pool deck is prohibited
Special rules for swimmers under 6 years old?
Children age six (6) and under need to be within eyesight and supervised by someone 16 years old or older at all times. At the entry of the water park, both will receive a special colored wristband.
What are the height requirements for the waterslide?
Single riders must be at least 48 inches tall. Double riding is allowed for riders under 48 inches with a 16-year-old or older who is 48 inches tall. The water depth by the slides is 3ft, 6 inches deep.
Hours & Admission
Season passes are a great option for families to save money! A family pass is available to all family members who reside at the same address, and who use the household as their permanent address. The initial pass includes 4 family members. Additional members are extra. Save even more by purchasing the season pass before June 11, 2022.
Opening Day: June 8, 2022
Closing Day: August 19, 2022
Daily Admission Rates (Cash or credit card accepted)

2 years & under

Before 5 pm: FREE
After 5 pm Child: FREE

Youth (3 years – 17 yrs)

Before 5 pm: $4.50
After 5 pm: $3

Adults (18 – 59 years old)

Before 5 pm: $5.50
After 5 pm: $4

Seniors (60 years and older)

Before 5 pm: $3.50
After 5 pm: $3

Daily Schedule:

10 – 11:30 am – Lap swim, lazy river walking, tot time (for children 5 and under)
11:30 – 12 pm – CLOSED
12 – 5 pm – Open Swim
5 – 6 pm – Lap Swim Only
6 – 7 pm – Open Swim
2022 Special Events
These special days at the pool may include themed games, concession specials, live music or DJ, karaoke and more! Annual Ducky Days is a local favorite with chuck-a-duck and lazy river duck racing.
Military Mondays: FREE admission with a valid military ID on Mondays June 13 – August 15, 2022
Aqua Fiesta – June 30, 2022: 1 – 4 pm
Pirate Ship Shake-Up – July 14, 2022: 1 – 4 pm
Annual Ducky Days – July 28, 2022: 1 – 4 pm
Jungle Party – August 11, 2022: 1 – 4 pm
Season Pass Appreciation Night – August 13, 2022: 4:30 – 7 pm (Season Pass holders only)
Pollock Community Water Park
Other Fun Summer Things to Do in Oshkosh
READ MORE: 20+ places to swim on Go Valley Kids Outdoor Swimming Pools List!