If you're looking for the sweetest treats or unique gifts, head to Oshkosh, because Caramel Crisp Corner has you covered! Parents will enjoy the spacious cafe and chic assortment of treasures and kids will be endlessly inspired by the rows of books, fruity popcorn creations, and rooms full of fun trinkets!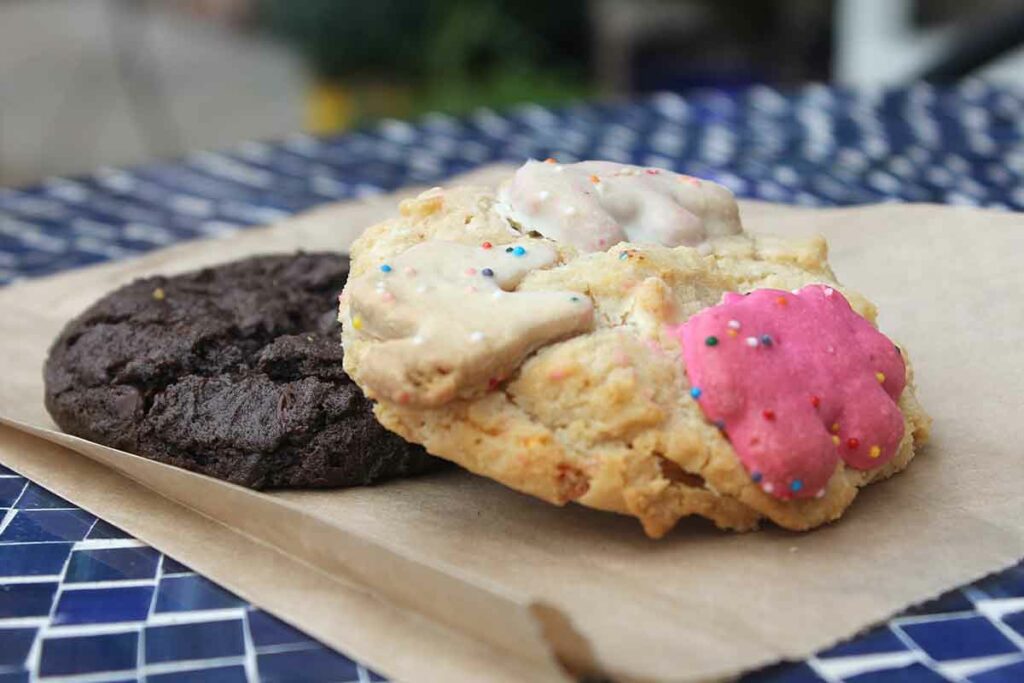 A Little Bit of Everything
One of the best features of Caramel Crisp Corner is that it truly has a little bit of everything. Since opening in 1933, it has evolved from a little popcorn shop on Main Street to a haven for all things delicious, incredible, creative, and fun.
Walking in, visitors are greeted with amazing mouthwatering smells and stacks of homemade popcorn. You'll find the popcorn bags in neatly tacked wooden crates (my favorite is Green Apple!) Flavors include savory, sweet, and blends, making the perfect pair for movie night for the whole family.
There is also a book section filled with novels, chapter books, picture books and memoirs from many authors. Those who enjoy reading can easily find a new book to dive into and enjoy. A carousel of greeting cards also awaits, making it convenient to give the gift. There are books for teens to adults in this section.
An assortment of wines, packages gourmet foods, home decor, art, and boutique-style goods are nestled in the corner. Browse gorgeous pieces while sipping a freshly brewed cup of coffee. The possibilities are endless at Caramel Crisp and there is something for everyone!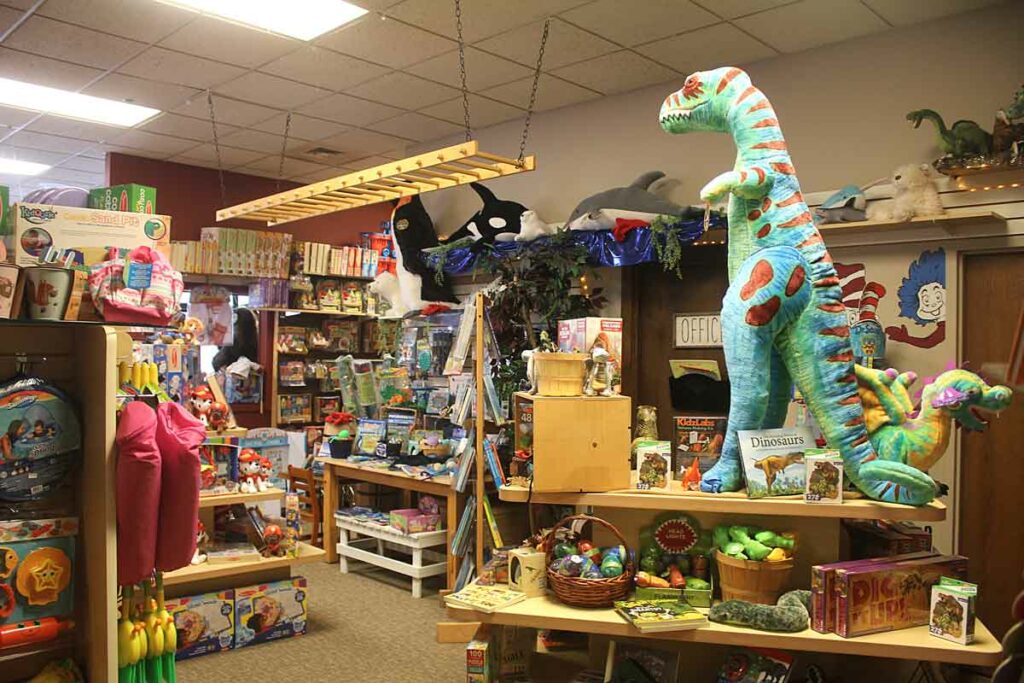 Themed Toys & Treasures
Undoubtedly, Caramel Crisp Corner has one of the most immaculately stocked toy rooms, giving Santa's elves have some major competition. The connecting rooms are filled to the brim with options, ranging in age from babies to school-age children.
The variety is unmatched and includes stuffed animals, puzzles, creative play sets, art kits, water toys, nature exploration tools, coloring supplies and more. The selection features well-made wooden toys, products with eco-friendly packaging and gift ideas that are perfect for every child's interest.
Through the doorway, visitors will find an area devoted to all things baby. It features a cozy chair in the corner and shelves lined with keepsakes, books, mementos, rattles, plushies and soft toys. You'll also find clothing and items for little brothers and sisters.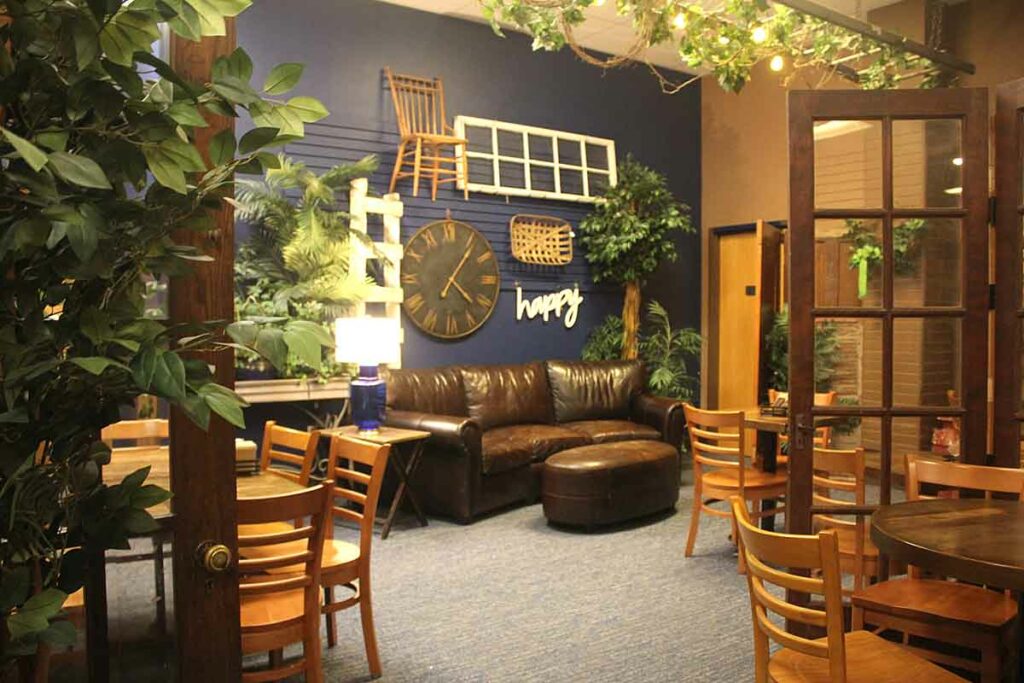 Spaces to Relax
Pass through a set of French doors and discover a quiet oasis with plenty of seating. The tastefully decorated indoor spot has tables and a couch, perfect for taking a moment to relax and read together.
For warmer days, visit and enjoy time out on the front patio and take in the downtown feel. The shop has a rounded setup, allowing a smooth flow between rooms. It is also stroller and wheelchair friendly.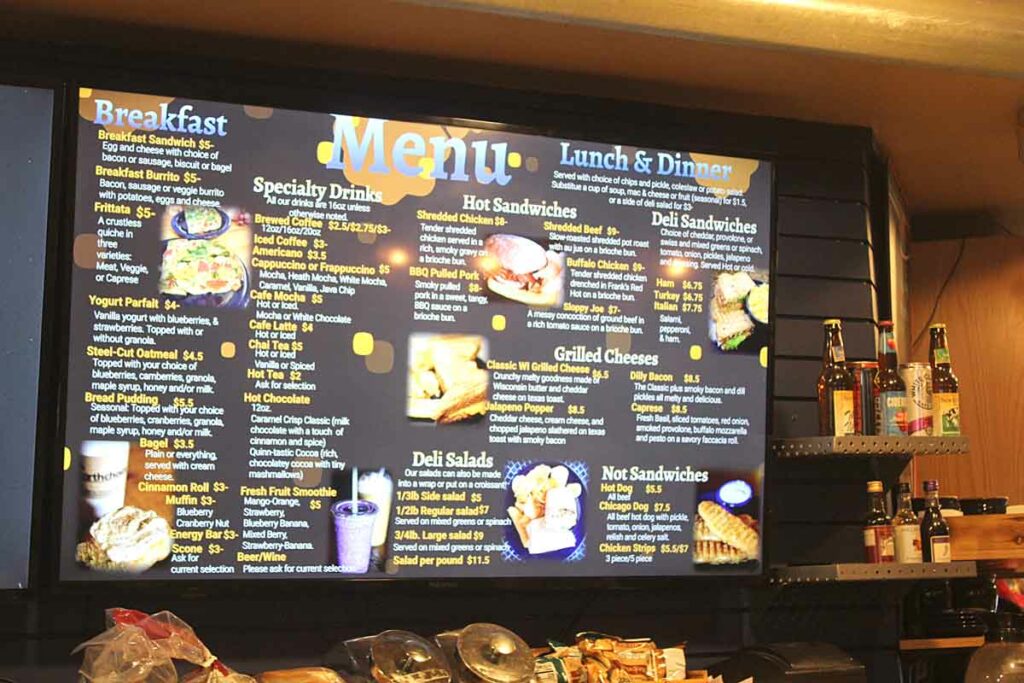 How About A Bite to Eat?
While many immediately think of their sweet goods, the Caramel Crisp Cafe offers an impressive menu of breakfast items and lunches. Served all day, patrons can enjoy fresh bakery, deli-style sandwiches, salads, gourmet coffees, and smoothies.
Breakfast options include hot dishes like a breakfast burrito, filled with soft potatoes, veggies, fluffy eggs and cheese or homemade frittatas. Classics like cinnamon rolls, bagels and muffins are also available. Add a boost to your day with a caramel cafe latte, spiced chai tea or white chocolate cappuccino.
Opt for filling fare bursting with flavor as lunch and dinner roll around. Try out the Jalapeno Popper Specialty Grilled Cheese, a tangy sloppy joe, or a deli sandwich on a soft croissant.
Meals include your choice of chips, a pickle, potato salad, or coleslaw. Alternatively, opt for a lighter meal with a variety of deli salads including Chicken Cashew, Curry Chicken Quinoa or Mediterranean Tortellini. The cafe also offers kids meals and a rotating soup of the day. Check out their full menu.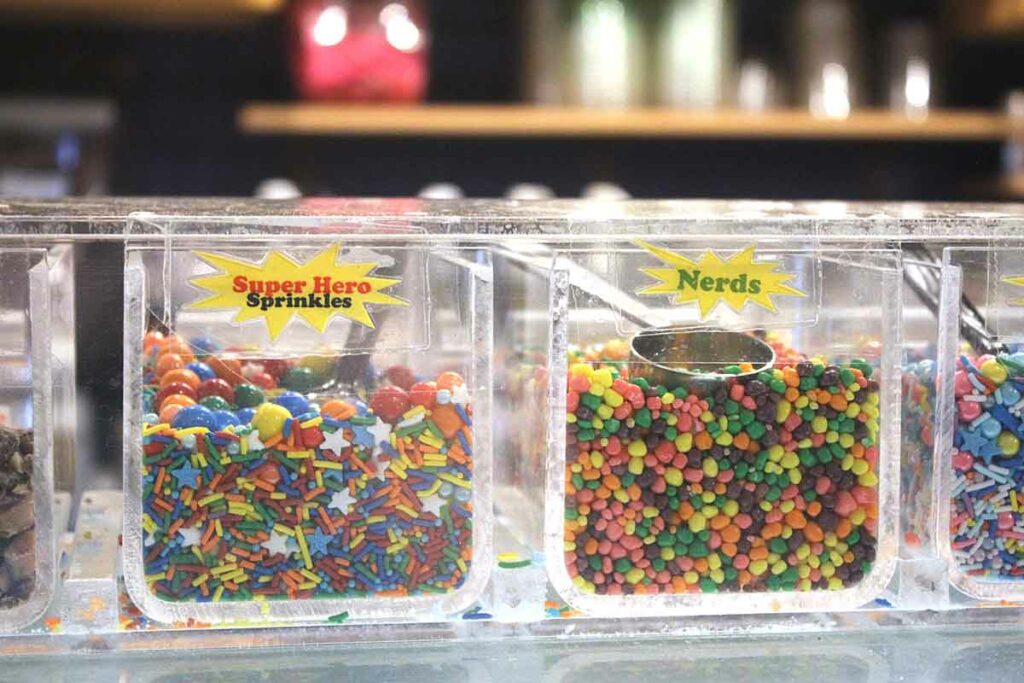 Time for a Treat
There are dozens of the cafes 'famous' cookies available – 20 to 30 kinds to be exact! The cookies, which popular flavors include the turtle and double chocolate brownie, are baked in small batches throughout the day. Not only are they fresh, but they hold the title of best cookies ever!
In addition to cookies, they also offer Chocolate Shoppe hand-scooped ice cream, homemade pies, cake pops and cheesecakes! These goodies are great for after-dinner desserts and family nights, too.
Between the pies and cheesecakes alone, the flavors are out of this world and include varieties like (see the full, mouthwatering list):
Red Velvet
Peanut Butter Caramel
Banana Split
German Chocolate Fudge
Key Lime
Whether you are looking for a gift or your belly is bellowing for a treat, stop by Caramel Crisp Corner, its wondrous offerings will not disappoint!
Caramel Crisp Corner, 200 City Center D, Oshkosh
Hours: Monday – Friday: 7:30 am – 7:30 pm, Saturday – Sunday: 8 am – 5 pm