Spend some time this winter with your family and try cross-country skiing! Cross-Country skiing offers a fun exercise to get some fresh air outside. This outdoor adventure is easy to learn and can be relatively inexpensive.
Beginner Cross-Country Ski Lessons
The Oshkosh Recreation Department is offering beginner cross-country ski lessons at the Winnebago County Community Park, starting January 8, 2022. Learn the basics of classic cross-country skiing! Skis, poles, and boots are all provided free of charge with each lesson. Sessions begin and end at the northern entrance to County Park, located on Sunnyview Road (Hwy Y), across from the Sunnyview Expo Center.
Who is this for?: Age 8 +
Fees: $15 per person; $7.50 free/reduced
Non-Resident Fees: $20 per person
Day: Saturdays
Date: January 8, 22 and February 5, 19, 2022
Time: 9 – 11 am or 1 – 3 pm
Location: North Entrance to Winnebago County Park, Oshkosh
Cross-Country Ski Demos
FREE Cross Country Ski Demonstrations will also be available on event nights offered by Oshkosh Recreation Department in partnership with International Youth Sailing of Oshkosh at Roe Park (408 Washington Ave, Oshkosh).
January 7, 2022, 5 – 7 pm: Super Hero Night
January 21, 2022, 5 – 7 pm: Luau Night with DJ Skip
February 4, 2022, 5 – 7 pm: Winter Olympics
February 18, 2022, 5 – 7 pm: Mardi Gras Theme
Cross-Country Ski Rentals
Looking to cross-country ski, but don't have the equipment? Check out this is a brand new program in 2022! The Oshkosh Recreation Department will be renting out classic cross-country ski packages that include boots, poles, and skis for $25 (plus a $25 security deposit). Rentals will be for select weekends only, Friday through Sunday.
Who is this for?: Age 5+
Fees: $25 per kit (boots, skis, poles) + $25 deposit per kit
Non-Resident Fees: Same
Day: Alternate weekends in January and February 2022
Date: Weekend of January 15/16, 29/30 and February 12/13, 26/27, 2022
Time: Pick up on Friday; Return on Monday
Location: Rentals are picked up at the Oshkosh Recreation Department Office but can be used wherever you'd like. Ski where you want!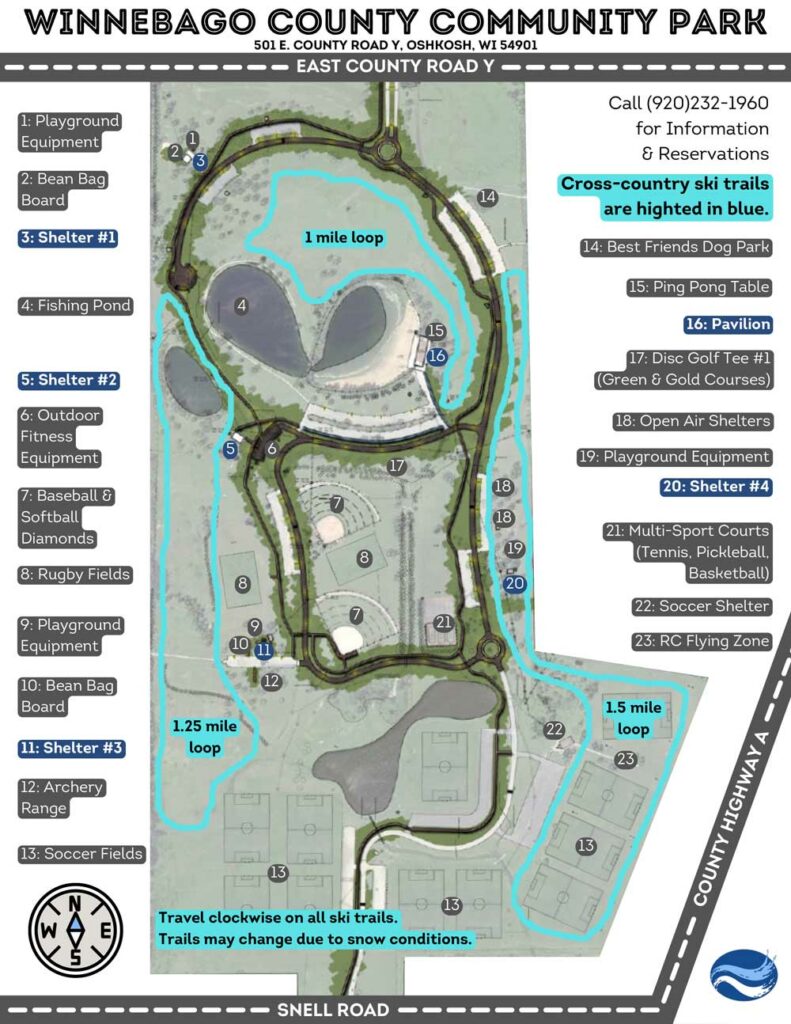 Cross Country Trails
This winter, Winnebago County Community Park has nearly five miles of groomed cross-country trails. These trails are flat and great for beginners! For the open/close status of the cross-country ski trail please call (920)232-1960 and select option 5.
Wisconsin's state parks and forests also have trails. Find trails and trail conditions on the Wisconsin Department of Natural Resources website.
Bubolz Nature Preserve in Appleton transforms all their normal walking trails into cross country ski trails in the winter. These groomed trails range from .5 miles to 4.5 miles. Trail fees are $5/person. They also rent out equipment.
Appleton Parks and Recreation grooms cross country ski trails at Reid Golf Course and Memorial Park in Appleton.
Groomed cross country ski trails are maintained (when snow conditions are favorable) at the following Neenah parks – Memorial Park (1131 Tullar Rd.), Southview Park (200 W. Bell St.) and Riverside Park (500 E. Wisconsin Ave).
Iola Winter Sports Club is a hidden gem in central Wisconsin with over 12.5 miles of groomed cross country ski trails for both classic and skate techniques, with 4 miles of lighted trails (the longest in the state of Wisconsin!). Open to the public with the option to purchase a daily or annual pass. They also offer equipment rentals.
If you head out on a cross-country skiing adventure share your experience with us on Facebook!