Foster creativity, imaginative play, and smiles with a morning visit to the Children's Museum of Fond du Lac! Since 2013, the museum has inspired visitors to thrive at its Lakeside District location. Through expanded exhibits, classroom space, and a well-designed area, their vision is to provide a safe place for children to learn, embrace their strengths, and celebrate childhood!
Walking in, families are greeted by an open area and welcome desk. Complimentary lockers are available for use during the visit and feature bright, unique photos on each so nobody forgets which locker is theirs. Entering the large play space, children will be immediately captivated by the many spots they can try.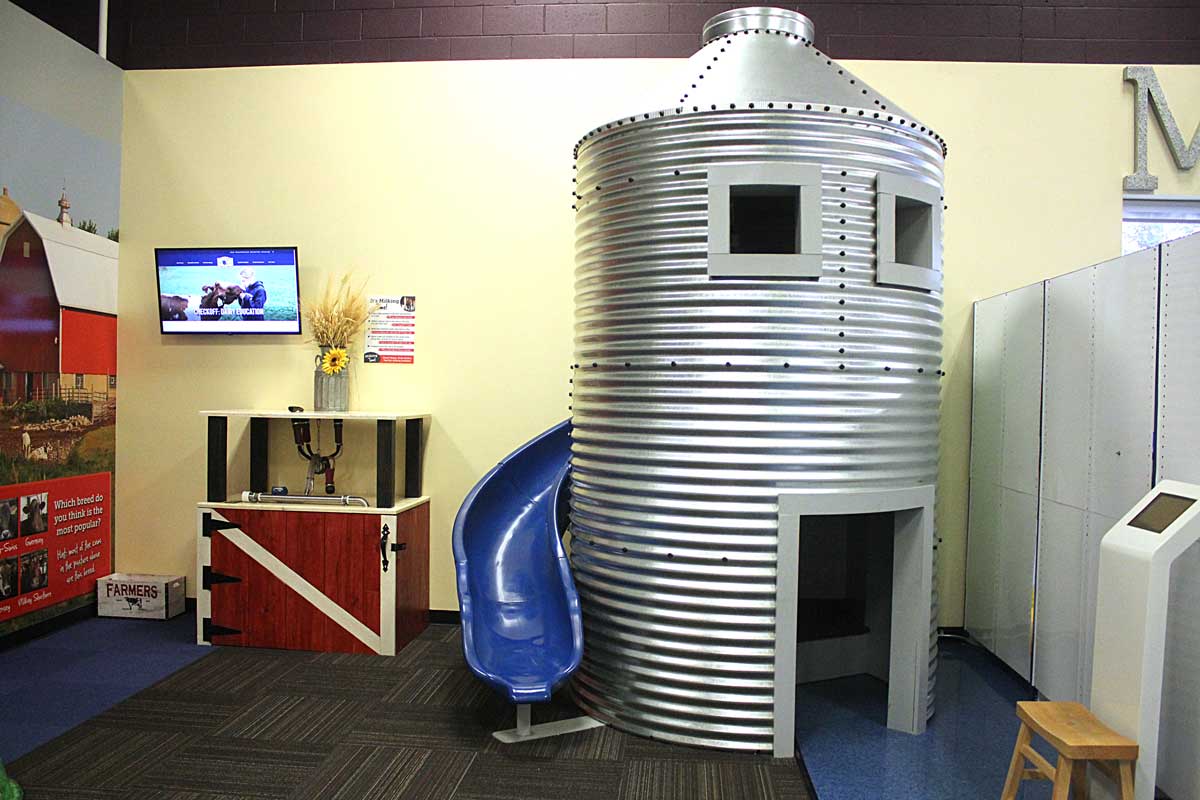 Learn, Explore & Engage at the Children's Museum in Fond du Lac
While the play sections are nicely nestled around the first floor, visitors can easily go between cozy spaces and those that encourage skill-building, exercise, and creativity.
Quieter Areas
Marjorie's Cabin: Snuggle up in a cute corner cabin and enjoy storytime, visit with parents and siblings, or to draw.
Great Toddler Reef: A space developed for those under four, it includes hanging jellyfish, a seashell island, a boat filled with soft shapes, bubble mirrors, and a climbing spot.
Shadow Safari: Capture the shadow of a safari animal and discover the effect that light has on phosphorescent vinyl.
Transportation Station: Children can climb inside a plane, train and bus – all in their size and decide on where they are headed next.
Money Exchange: Save them pennies! Learn about the currency used around the world and compare the values of each.
Puppet Theater: Encourage a child's imagination and creativity to take center stage as they wow their audience with a story or play.
Phone Booths: Hello, it's me! Children will enjoy picking up a payphone and hearing messages on the other side. (Adults: Don't you miss payphones!)
Car Racing Ramp: Race toy cars down the ramp and speed to the finish line.
Career-Inspiring Spaces
Bull & Bear Market: Take a seat at a networked computer station to simulate real-life trading scenarios through high or low-risk strategies. Begin with $10,000 and make decisions on buying and selling stock.
CFIZ Radio Station: Calling all broadcasters! Create a show with a station jingle, weather forecast, and music samples and broadcast for others to hear.
Holiday Automotive Tech Center: Get under the hood, check the fluids, install new tires and experience the skills needed to be a busy mechanic!
Pizzeria Frazioni: Make some pizza pies and practice fractions with the Italian pizza parlor, complete with a prep counter, oven, and dining tables.
Fire Station 75: Grab a firefighter coat and hop in the truck to learn about the "Science of Smoke" and the Fond du Lac Fire Departments' history.
FARMtastic: Meet Annabelle, a life-size dairy cow, and learn the dairy process through a hands-on milking simulation. Slide down a grain bin and hear about the agriculture industry and farmers that make us Wisconsin proud!
Mind & Body Movers
BrainMatters: With the help of scarves, blowers, and tunnels, learn about the development of a child's brain and test out yours with puzzles.
Health Works: Geared toward healthy habits, the area includes an indoor climbing gym with interactive elements for balancing a diet, taking a pulse, engaging in fitness circuits, and lifting weights.
Discover the Body Puzzle: The table-size diagram teaches children about important organs in their body, their functions, and where they belong.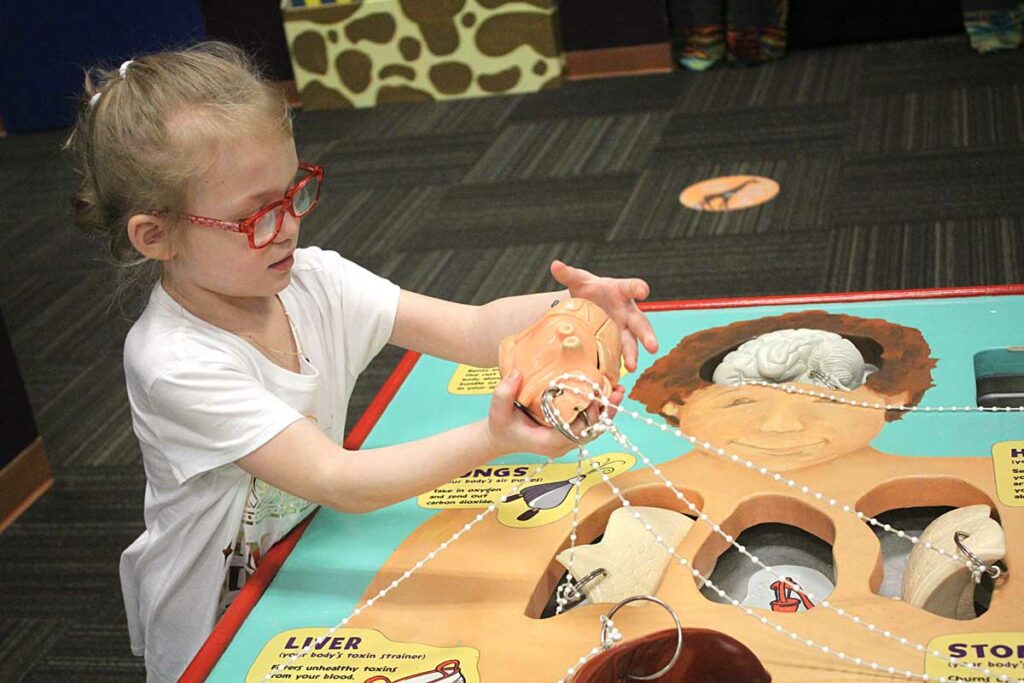 Worth the Mention
Some elements that families may find convenient at this museum include:
Free lockers are available for use during your visit and kids can easily identify theirs with the different images displayed on the front.
The exhibits are all located on one floor within an easily-walkable space, making it wheelchair, new walker, and stroller friendly.
The Quiet Spot, located in the toddler Reef section, is equipped with cozy, orange chairs and quiet toys for young babies and toddlers.
The museum offers Educational Fun Kits a variety of fun projects and experiments that can be enjoyed at home.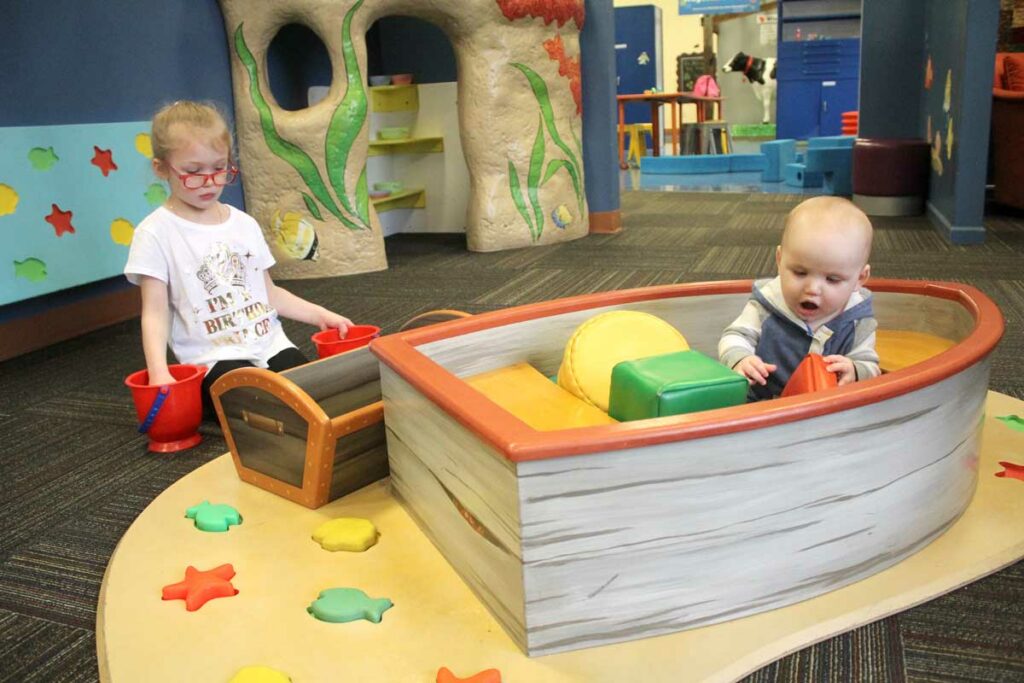 From A Kids View
Katelyn, 5, Says: "My favorite was putting tires on the car with the power tools, milking the big cow and playing with my brother in the boat with soft shapes."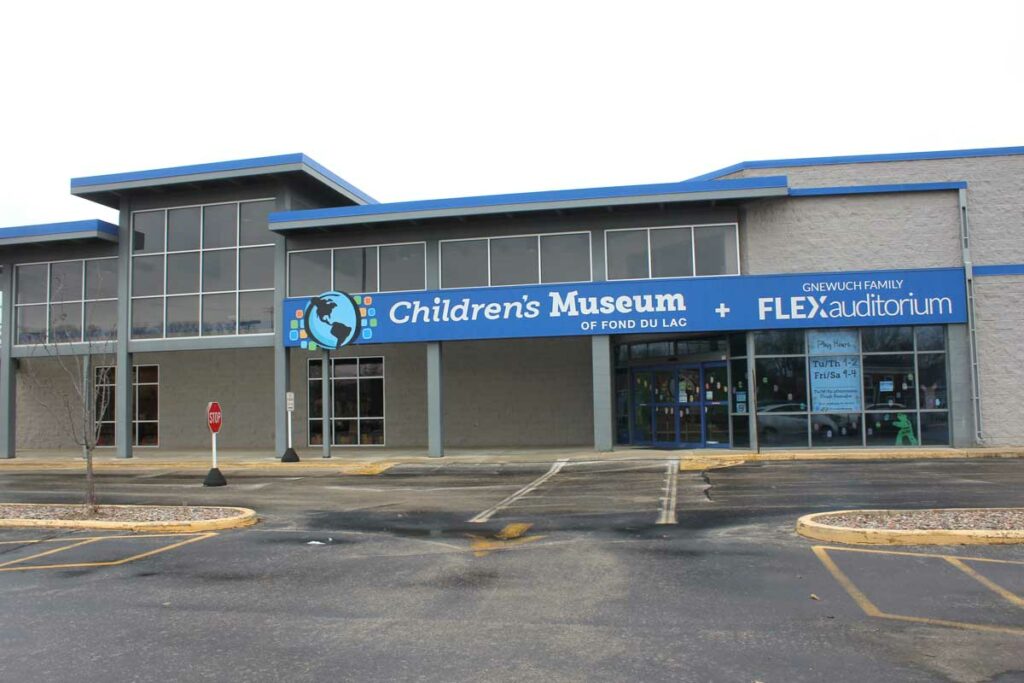 Plan A Visit
Children's Museum of Fond du Lac
www.cmfdl.org
Location: 75 W. Scott Street, Fond du Lac
Hours:

Tuesday-Thursday: 9 am – 2 pm
Friday & Saturday: 9 am – 4 pm
Sunday & Monday: Closed

Note: Afternoons are available for private reservations and birthday parties.
Admission: Daily rate is $8/person for Adults and Children, Seniors (65+): $7, Children under 1: FREE, Museum Members: FREE. Read about memberships here.
This museum participates in the Museums For All program. Learn more about memberships.