Oshkosh has a lot of fun and interesting places to explore, but you may not know of a more hidden place, the Military Veterans Museum and Education Center.
This museum is a perfect destination for learning history from the Civil War through the present day. You'll see actual vehicles and tanks that our parents, grandparents, great grandparents, or maybe even great-great-grandparents used while serving to protect our freedom. You may have glimpsed some of the vehicles in one of the numerous summer parades around Northeast Wisconsin! 
We reached out to Dale Anderson, the Membership and Marketing Volunteer at the museum. Our conversation ranged from what to expect when you visit, ways to donate, some history, and interesting stories about the artifacts at the museum. He gave a glimpse into his time in the Army and even offered advice for those thinking about joining the military or volunteering at the museum.
"Honoring our Nation's military history through preservation and education."
Go Oshkosh Kids Interview with Dale Anderson
Go Oshkosh Kids: Dale, what do you do at the museum?
Dale: Like many of our volunteers, there are a number of jobs I do. I am a member of the Military Veterans Museum and Education Center Board of Directors. I am chairman of the Marketing and Membership/Volunteer committees. I am a docent at least one day a week on weekends. I research the signage we put on our displays in the museum. I research parts for the vehicles and help in repairs.
GOK: What got you interested in helping with the museum?
Dale: As we neared retirement, my wife and I explored possibilities, one being to volunteer at a military museum. After visiting several museums in about a 500-mile radius, we decided Oshkosh and MVM were our best choices.
GOK: What are some of the military trucks on display?
Dale: There are currently 22 vehicles in the museum, with two more in our offsite storage, along with an extended boom rough terrain forklift. Of the 22, 20 are run-able, and several go out to events every summer. We have vehicles from WWII to Desert Storm. Right now two of the most popular vehicles are the Vietnam-era gun trucks Brutus and 'Lil Brutus.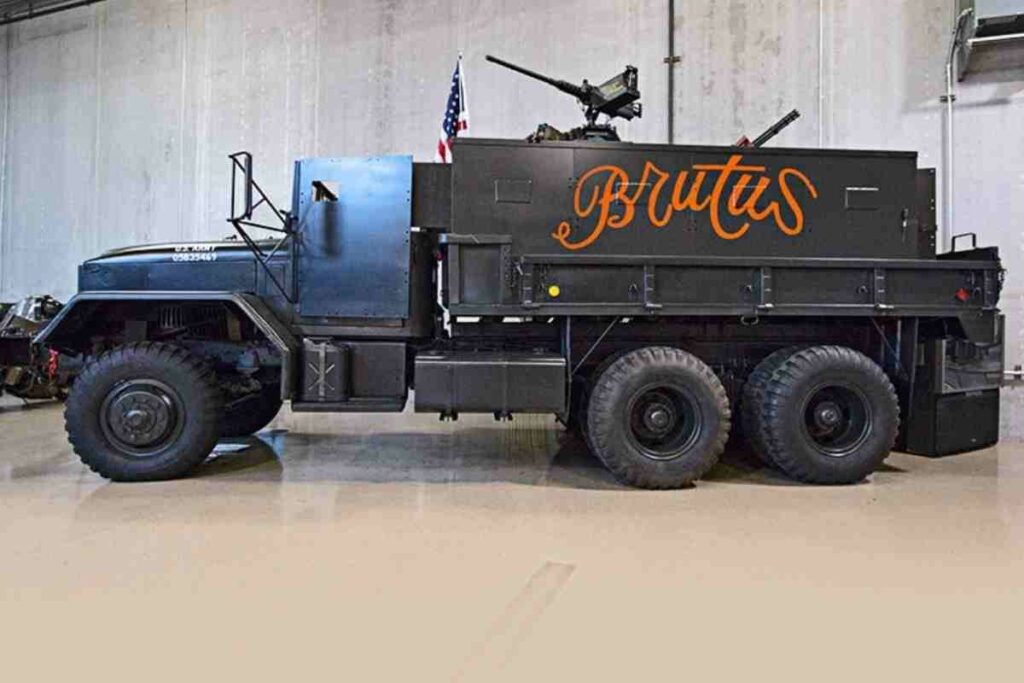 GOK: Where do you get the military trucks?
Dale: The museum has purchased two of the vehicles outright. Eleven of the vehicles were donated to the museum through the John Kuenzl Foundation. They also provided a sum of money enabling the construction of our current building. The remainder of the vehicles are on loan from people in the area.
GOK: Are the trucks featured in the parades in the area? And who drives them?
Dale: We send vehicles to parades and other events in about a 30 mile radius. Flag Day in Appleton being one example. "Brutus" has been a regular, and is very popular. Volunteers drive the museum pieces, and the owners drive the loaners.
GOK: Is it true that one of the tanks at the museum was featured in the Disney/Marvel Movie "Ant-Man"?
Dale: In the past the museum has the loan of a WWII T34-85 Russian tank. That tank was featured in the first Ant-Man movie. Two years ago the custodians of the tank requested they have it back. Last we heard, it is now stored in Door County, with the possibility of it eventually going to the Smithsonian museum in Washington DC.
GOK: What other things/displays can you see at the museum?
Dale: We have many displays telling the story of veterans from the Civil War to present day. We have made major strides in expanding and improving these exhibits in the past two years.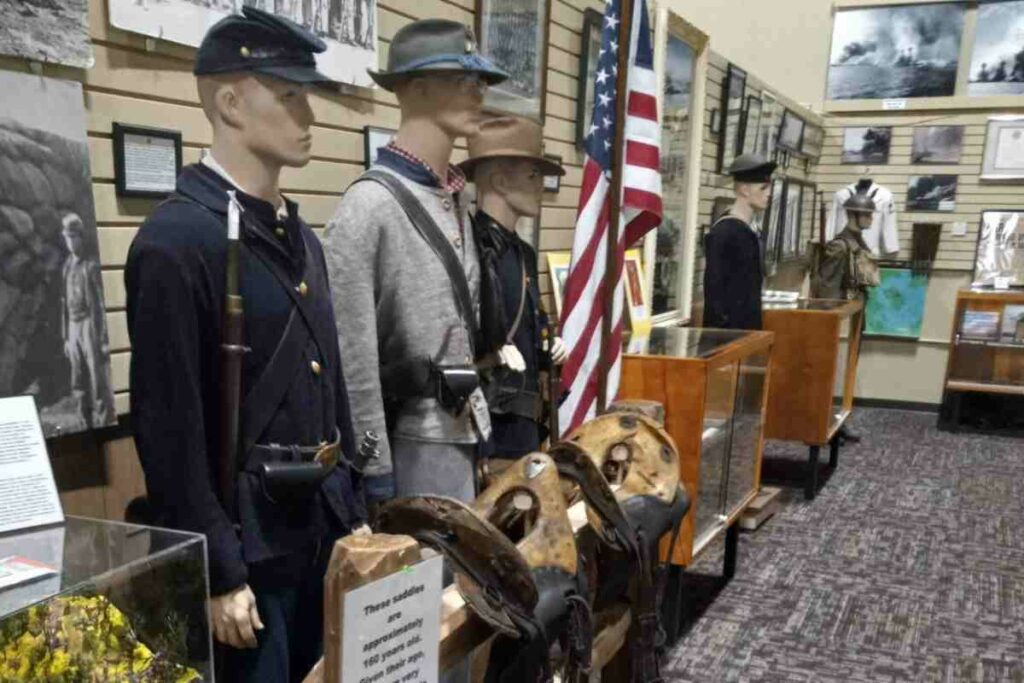 GOK: What type of fundraisers do you have throughout the year?
Dale: We have an annual gun raffle where tickets are sold from October through December. Drawings are done every Thursday to give away one gun or its equivalent in credit for shopping at Scheels. We have an annual golf tournament. There is also an annual dog tag drive, where people pay $1 per paper dog tag in places like bars and restaurants. Our fundraising committee has been very successful in raising the funds to pay for operational expenses plus setting money aside for future expansion.
GOK: How can you volunteer your time or donate to the museum?
Dale: People can volunteer at the museum doing a number of things. We have needs for gift shop cashiers, museum docents, buildings and grounds maintainers, vehicle maintainers and restorers, and drivers. We have an informational sheet available describing all of the opportunities we have.
GOK: Why do you think it is important for people to come to the museum?
Dale: When they come to the museum, they will be able to learn many of the stories of Wisconsin veterans that have served their country in the military.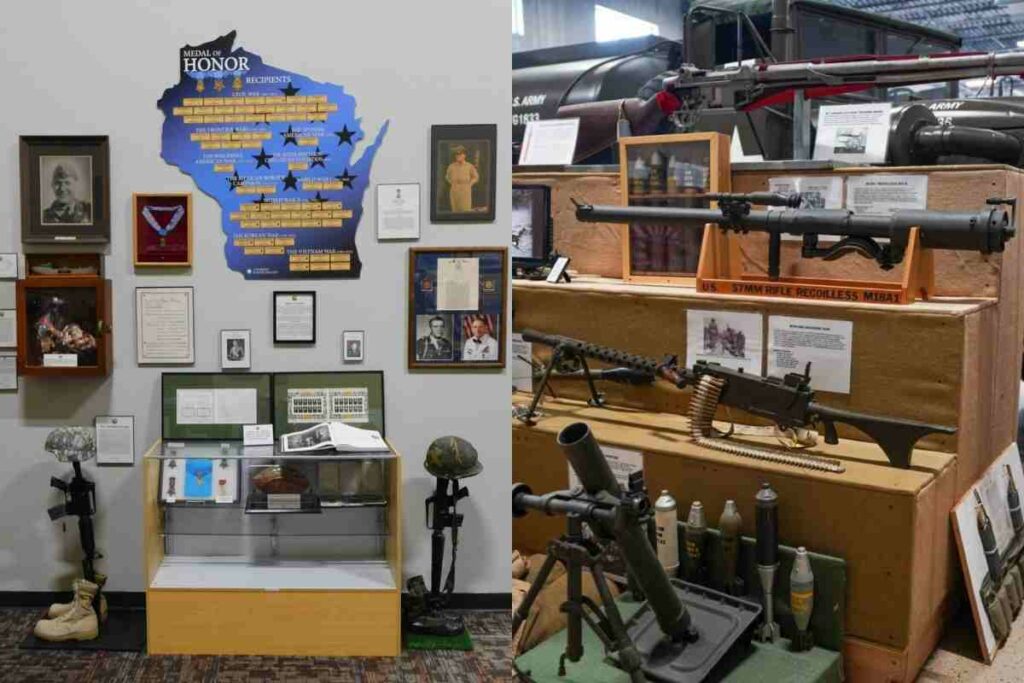 GOK: We would like know a little more about you!
Dale: After serving time in the Army, I was a dairy farmer for 17 years and then worked for the Wisconsin Ag Department as a public health sanitarian for 23 years. I am now retired. I have been married for 42 years. Have two sons who are married and four grandchildren.
GOK: What places/cities/countries did you get to go during your time?
Dale: Germany for a little over 2 years.
GOK: Did you serve in a specific war/operation?
Dale: No, I was a mechanic that worked in a shop that rebuilt things like generators and starters for vehicles. I like to tell people I was defending the Gasthauses in Germany from Russian invasion.
GOK: Are there other members of your family who were in the military?
Dale: I have been the only one in my family to serve in the military.
GOK: What would you say to a young person or anyone interested in joining the military?
Dale: Being in the military can be a really good experience. You are taught teamwork, and learn just what kind of a person you are. Service in the military can really help prepare for future things they want to do later in life.
Thank you, Dale, for your service and for taking the time to answer our questions for our readers!
Museum Information
2022 Events
Nearby Things to Do