The ball never stops moving when you're at a Wisconsin Herd game! The final score of almost every game is over 100 points for each team – but these fast-paced games are just the beginning of the fun.
As a family with elementary-age kids, we were bouncing around the stadium a bit, especially in the first half when our kids wanted to check out the whole arena. You are able to walk the perimeter of the court to access the restrooms, food stands, activity booths, gift shop, and drink stations. We liked to hang out on the corners of the court to watch the players and see some close-up action.
Our kids were able to shoot baskets at an inflatable game, win prizes at the SCHEELS booth, design their own cheer poster, and get a selfie with Pointer (the adorable mascot that makes his way onto the court throughout the game)!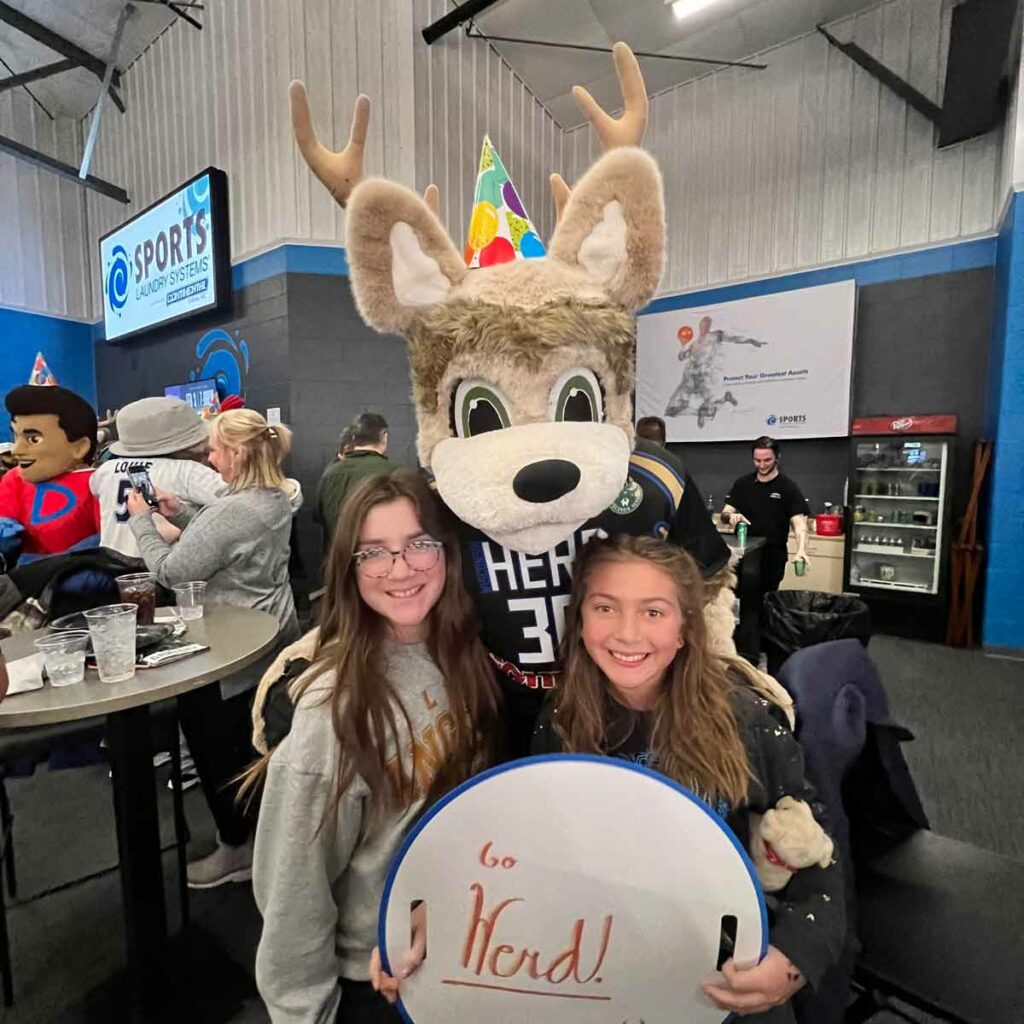 We grabbed some nachos, popcorn, pizza, and cotton candy before heading back to our seats. I also had to get a Blu Bobber with fresh blueberries added from the Fox River Brewing stand!
By halftime, I had prefaced the second half with the expectation that we would be actually watching the game. We were wound up by the time the final buzzer rang! I had never heard my 6-year-old son scream his heart out as he did while we watched these NBA future superstars throw another 3-pointer and see the basketball swish through the hoop! The whole arena had an infectious energy that pivoted on a few final points.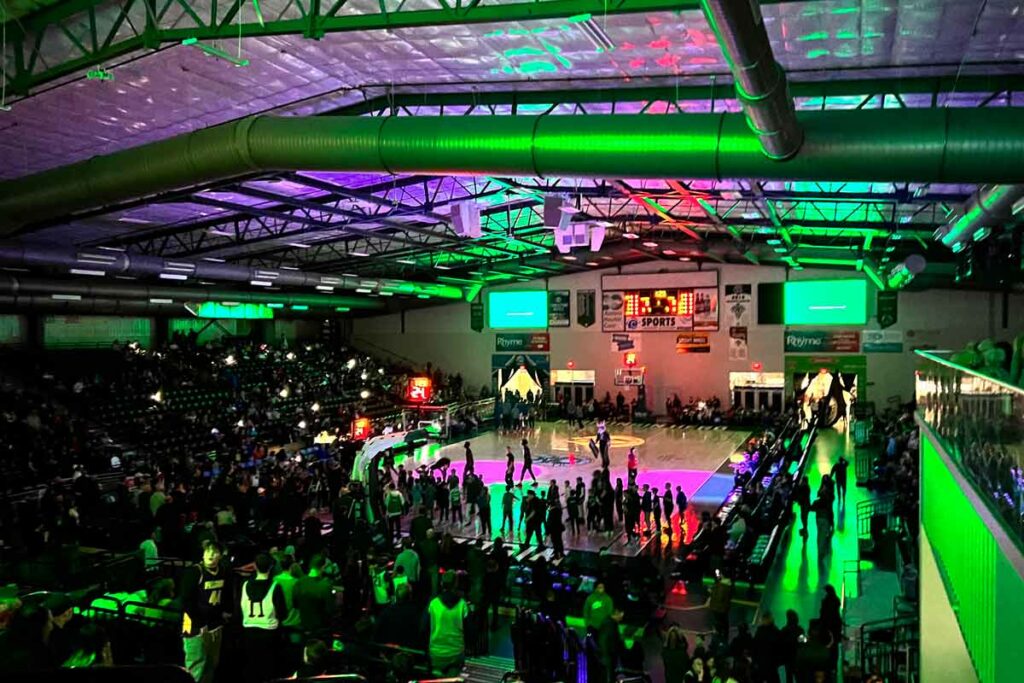 If that sounds like a great time for your family, here are some GVK tips and what you should know before you go!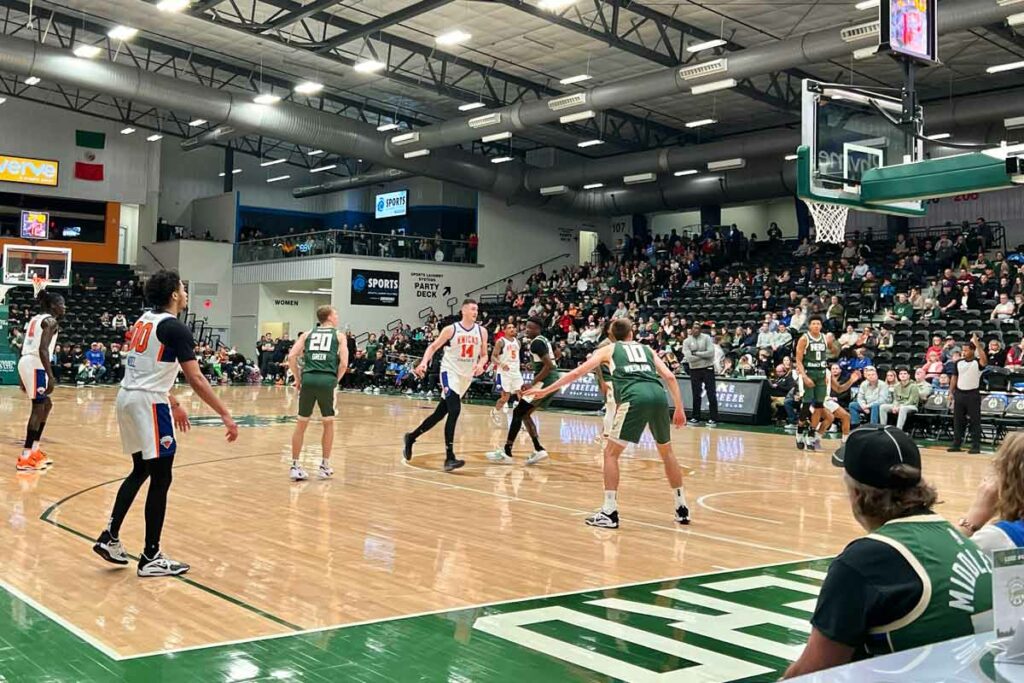 When does the Wisconsin Herd play?
The Wisconsin Herd basketball season runs from November through March, with 3-6 home games a month. Almost every home game has a fun promotion in the 2022/2023 season! Some of our favorites have been Marvel Super Hero night, Star Wars night, and Pointer's Birthday and you know you'll always have a great time at Fan Appreciation night (coming up on Tuesday, March 21).
Many of these themed games have their own giveaways like cups, magnets, calendars, bobbleheads, koozies, t-shirts, hats, sunglasses, and posters. If your kids are anything like ours, nothing makes their night like some SWAG!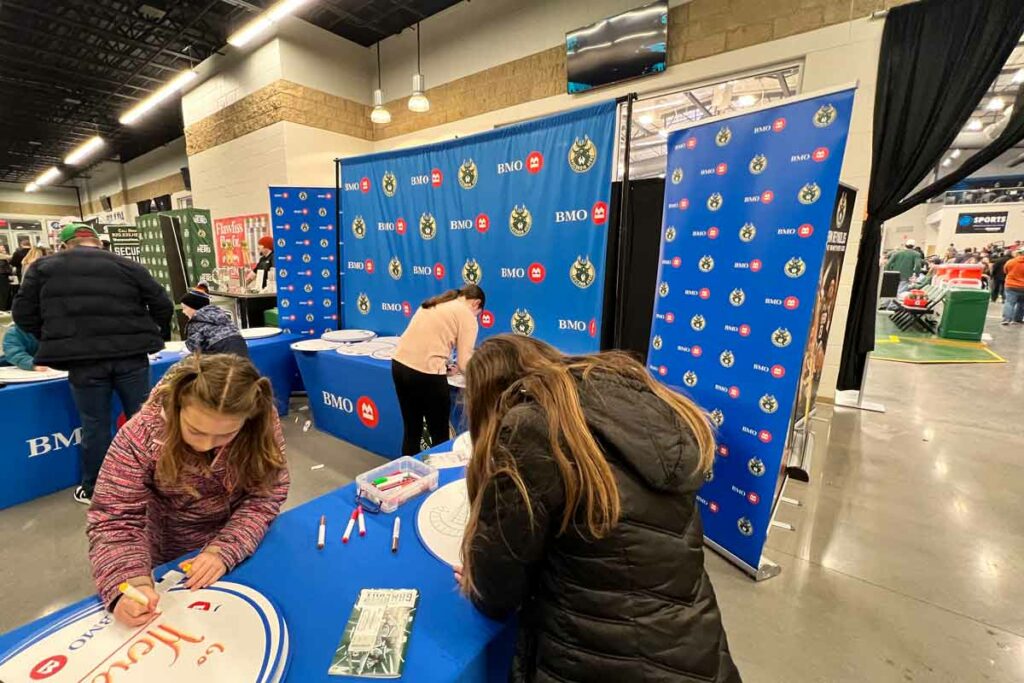 Where does the Wisconsin Herd play?
All home games are played at the Oshkosh Arena at 1212 South Main Street, Oshkosh. This relatively new space was built in 2017 and holds up to 4,200 fans!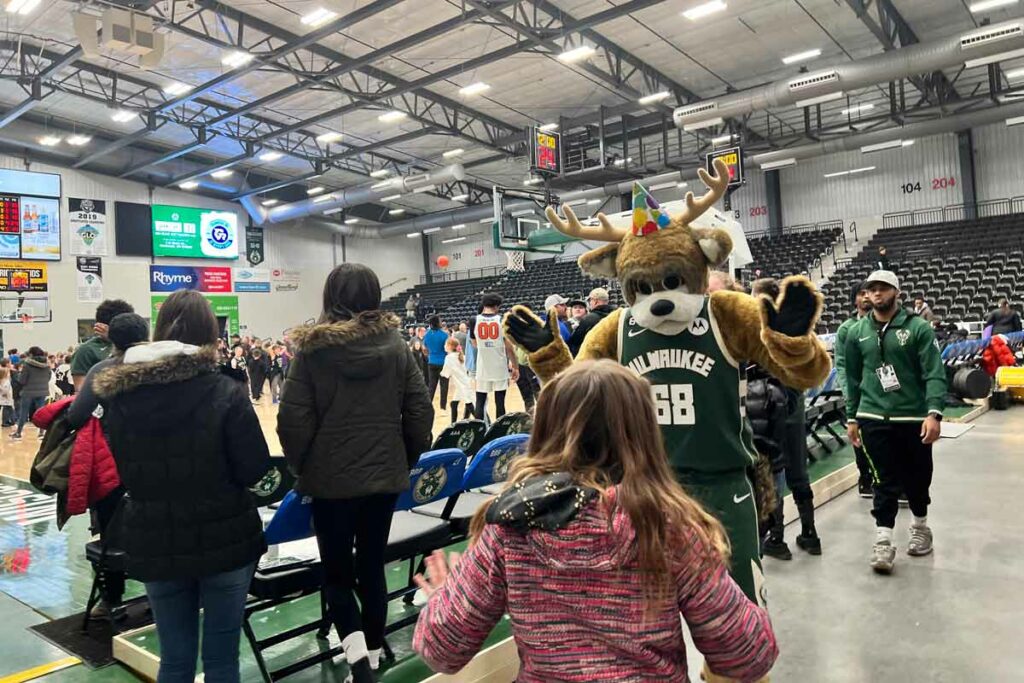 Where do we park?
There is a general parking lot to the north of the arena. Turn on 11th street to access this lot. Parking here is $10 per car with cash or a credit card.
When we arrived, the lot had just filled, so we were told that there was street parking available around the arena. The parking attendants were very helpful in directing us to our alternative options, and we quickly found another spot just a block or so down one of the adjacent streets.
What can we bring?
You are welcome to bring a small wristlet or wallet but NO oversized bags or purses other than for medical purposes, lactation, or small diaper bags.
How much are Wisconsin Herd tickets?
Tickets range from $10 to $50 per ticket.
When you're looking for tickets, know that there isn't a bad seat in the house! The seating only goes two sections up from the floor, so no matter where your seats are, you'll be able to easily watch the game.
We visited through a group outing for Appleton Park and Rec Basketball. What a great experience! We love that the Wisconsin Herd creates these Ultimate Fan Experiences for local groups. Our kids got to participate in the High Five Tunnel as the players were introduced onto the court; they got a group on-court photo and got to shoot some post-game free throws!
Other local groups can be featured during the game! Local Scout troops and military groups can be part of the color guard. Kids can stand with the players as "Anthem Buddies." Local choirs, bands, and dance teams are featured during the National Anthem as they play in the stands or dance on the court at halftime!
Save on discounted Herd tickets and bring the whole family. This link is a special ticket offer with Discover Oshkosh for a variety of games throughout the 22-23 Wisconsin Herd season! Stay tuned as this will be updated with more information on theme nights, giveaways, and more!
View the Wisconsin Herd 2022-23 schedule.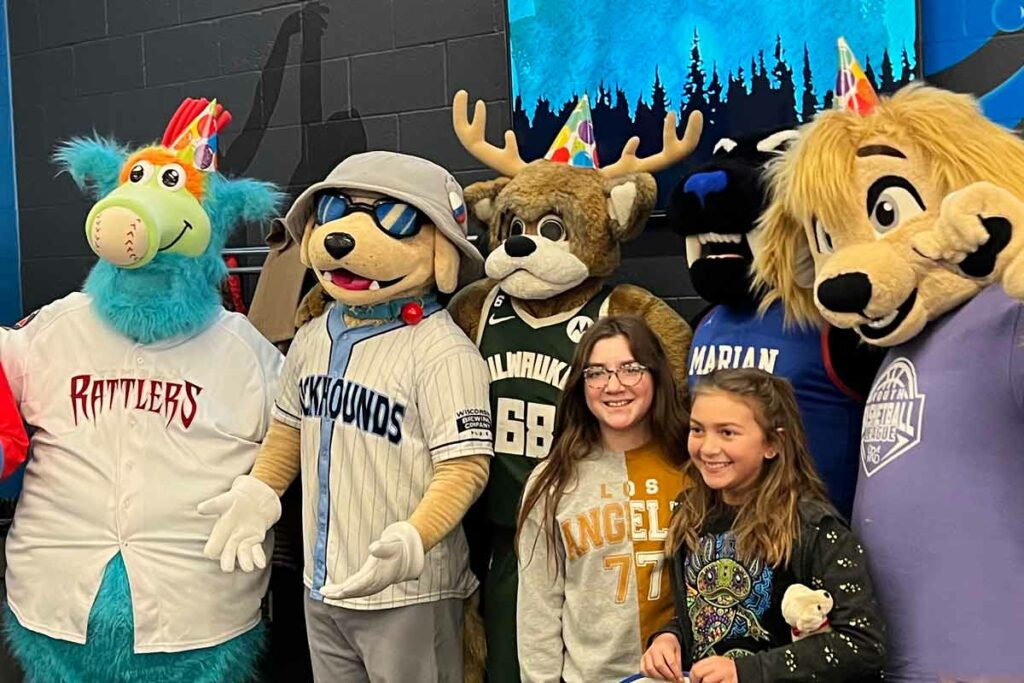 Want to party like Pointer?
The Wisconsin Herd also has birthday packages that would be perfect for any basketball fan! Party packages include ten tickets, ten t-shirts (including a special birthday shirt), a birthday card, a gift from Pointer, and a PA birthday read.
We love that the Herd gives back!
The Wisconsin Herd has been working hard to give back to the Oshkosh area community. For the past four seasons, they have donated over $185,000 in various fundraising.
They partner with SCHEELS and Make-A-Wish to grant wishes for five local kids every year.
They invite schools from all over Wisconsin to participate in their BMO School Day game with different themes like STEM, health and wellness, anti-bullying and mental health.
They even feature the Oshkosh Fire Department and Winnebago County Sheriff Department in their Boots vs. Badges game, along with a number of other community-driven events.
Some Final Tips
This is a fun, affordable family experience right in our backyard. We would definitely add several of these Wisconsin Herd games to our family's calendar throughout the season!
This year, they changed their weeknight games to begin at 6:00 pm. We love this new, earlier time, as it makes a school night outing much easier.
Never miss a game! You can watch the Herd all season long on tv32 or stream the home and away games on WisconsinHerd.com and the NBA G League App.