Have you ever wondered about holiday traditions celebrated around the world? Oshkosh Public Library's Children's Librarian Lindsay has created a fun list of books that will help your family learn more about a wide range of cultures and celebrations throughout the winter.

Searching for more ideas? Call (920) 236-5208 or stop by the library's Children's Desk.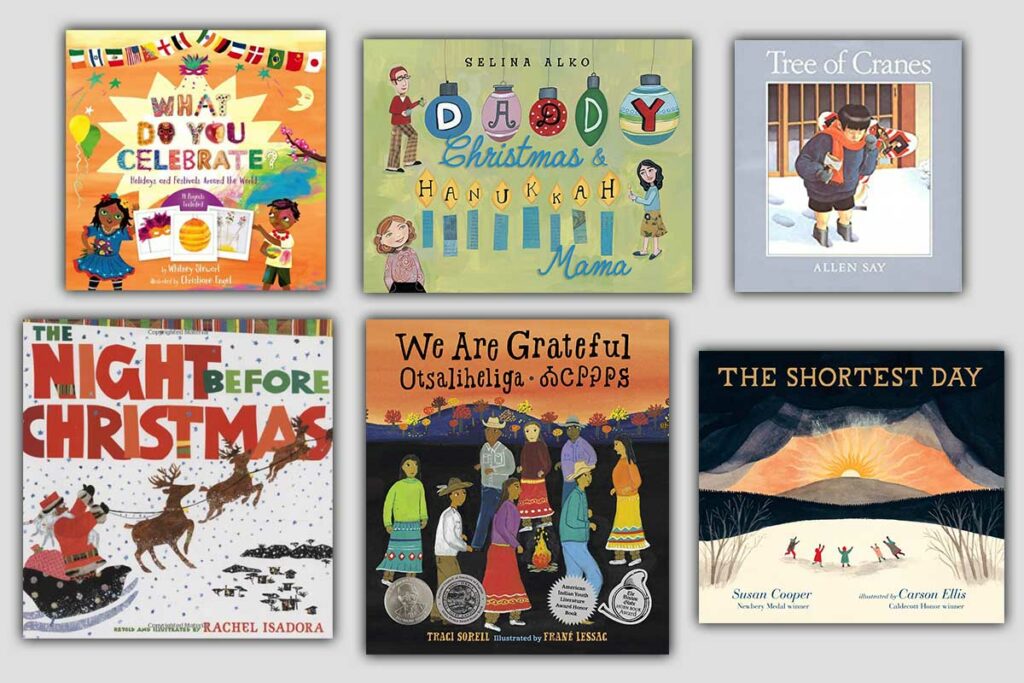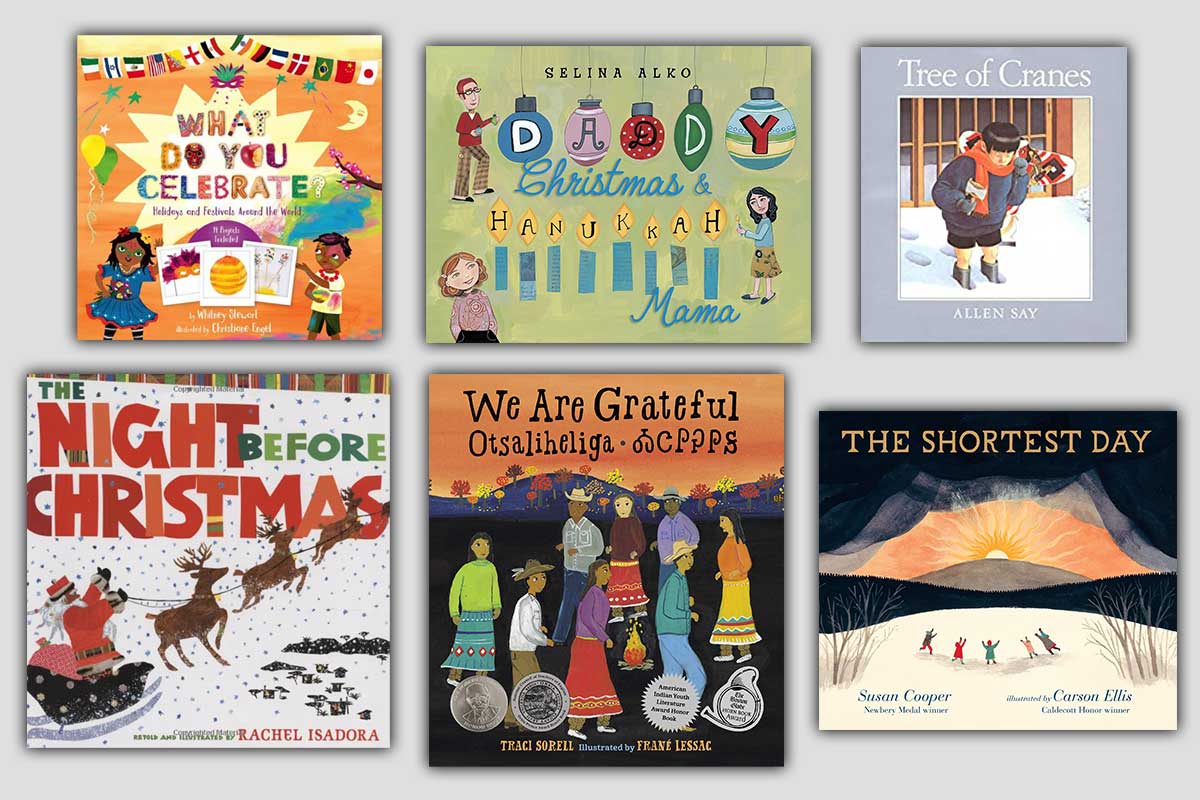 What Do You Celebrate: Holidays and Festivals Around the World by Whitney Stewart
A fun and colorful introduction to 14 different holidays celebrated around the world. Background information and vocabulary are included, along with activity ideas related to each holiday. A great introduction to different cultural celebrations.
Daddy Christmas and Hanukkah Mama by Selina Alko (Available as an ebook on Libby/Overdrive)
This story showcases how a family can embrace their differences and come together to celebrate both Christmas and Hanukkah every year. Instead of focusing on potential struggles, blended families and the mix of traditions that can come with them are celebrated.
Tree of Cranes by Allen Say
A Japanese boy experiences his first Christmas while his mother details stories from her past Christmas celebrations in California. A nice example of the differences and similarities in how different cultures may celebrate the same holiday.
The Night Before Christmas by Clement Clarke Moore and Rachel Isadora
This book portrays a Black Santa visiting children on a savannah in Africa. Traditional African clothing, fabric, and toys are vibrantly illustrated for a thought-provoking twist on the traditional concept of a European Christmas celebration.
We Are Grateful: Otsaliheliga by Traci Sorell (Available as an ebook, audiobook and Read-A-Long on Libby/Overdrive)
Written by a Cherokee Nation citizen, this book follows a year of Cherokee celebrations. A great reminder of indigenous culture during this holiday time.
The Shortest Day by Susan Cooper
This award-winning poem describes how the winter solstice could have been celebrated over generations. This title prompts readers to think not only about how holidays are celebrated around the world but about how they have been celebrated in the past.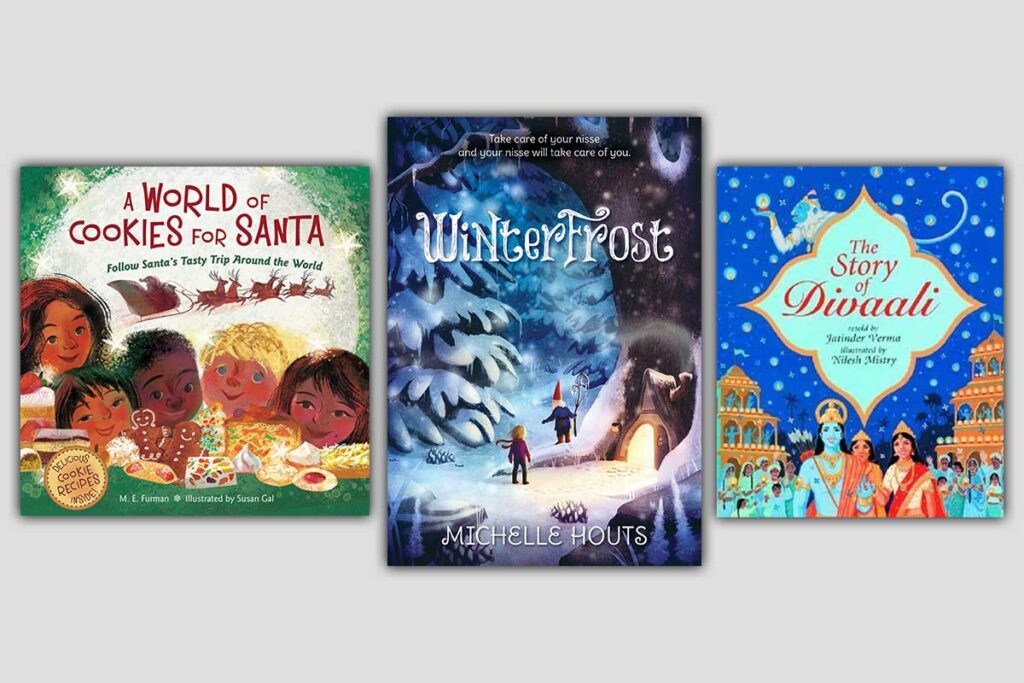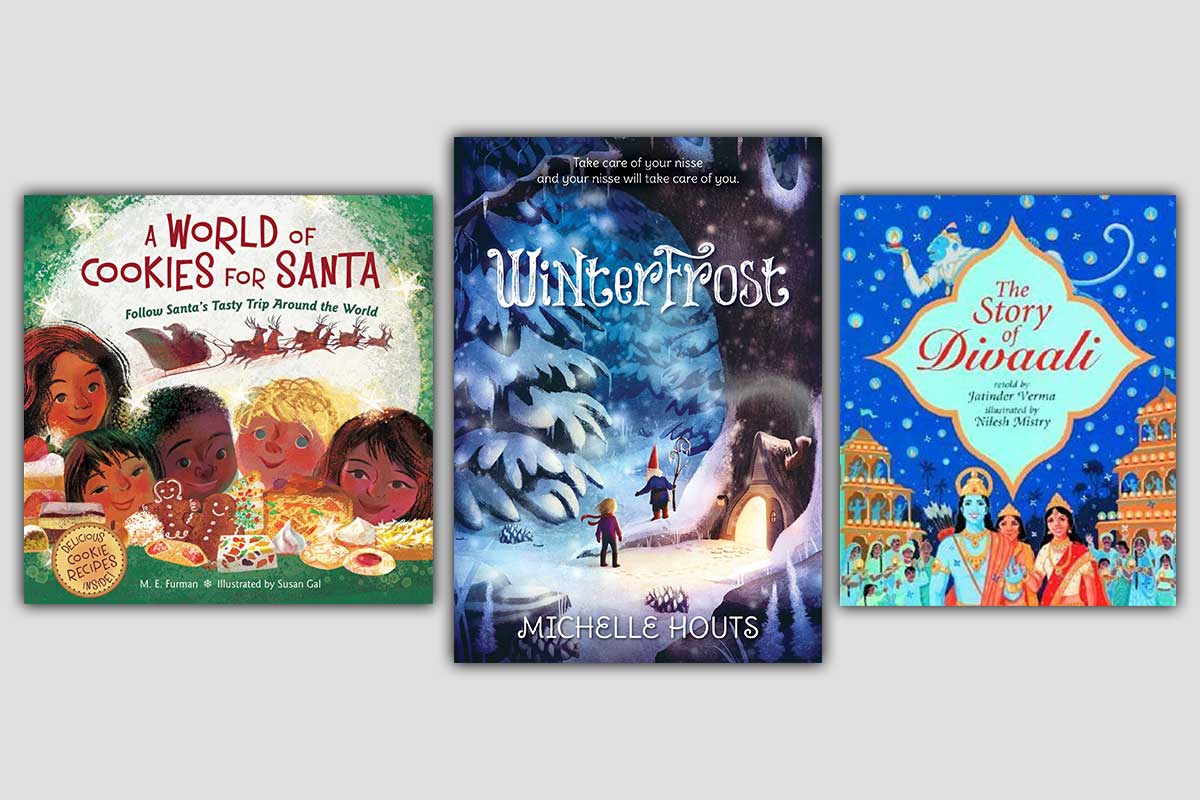 A World of Cookies for Santa: Follow Santa's Tasty Trip Around the World by M.E. Furman
Another title that focuses on how the same holiday can be celebrated differently in different cultures, but this time focusing on food! The author details the different treats children around the world leave for Santa and includes recipes for how to create some of them.
Winterfrost by Michelle Houts (Available as an ebook on Libby/Overdrive)
This chapter book centers on the Danish nisse, which is a creature in Scandanavian folklore who looks after farms for farming families and in return is traditionally left a bowl of Christmas pudding on the night of Christmas Eve. After a particularly hectic season, Bettina and her family forget the pudding—and trouble follows. This book provides insight into the folklore and beliefs surrounding holidays.
The Story of Divaali by Jatinder Verma
An adaptation of the traditional Hindu story of how the festival of Diwali came to be. This is an accessible and entertaining way for children to learn about a religion's myths and beliefs.
More Ways to Learn
5 Local Diverse Restaurants & Grocers Around Oshkosh
Manila Resto, 107 Algoma Blvd, Oshkosh – Filipino 
Pilora's Cafe, 910 N Main St, Oshkosh – Mediterranean 
Mara's Brazilian Cuisine, 200 City Center, Oshkosh – Brazilian
Tienda Mexicana Nayarit Market Mexico, 258 West 8th Avenue, Oshkosh – Mexican
All in One African Food Market, 2329 Jackson St, Oshkosh – African