One of my favorite things about this time of year is experiencing the Christmas magic through my children's eyes. At ages 9 and 11, I feel the urge to hang on tight to the simple joy in believing and keeping that Christmas spirit alive.
Experiencing the classic holiday fairytale, The Nutcracker in the Castle is a timeless tradition! And it gives my family another reason to love the Paine Art Center.
The story is about a girl who becomes friends with a nutcracker who comes to life on Christmas Eve and takes on a fierce battle against the evil Mouse King. It comes alive at the Paine as you follow along the adventure of Clara and the Nutcracker Prince with over 20 magical scenes. Experience this beloved fairytale at the Paine Art Center & Gardens from November 18, 2022 – January 9, 2023. Reservations open on October 11, 2022.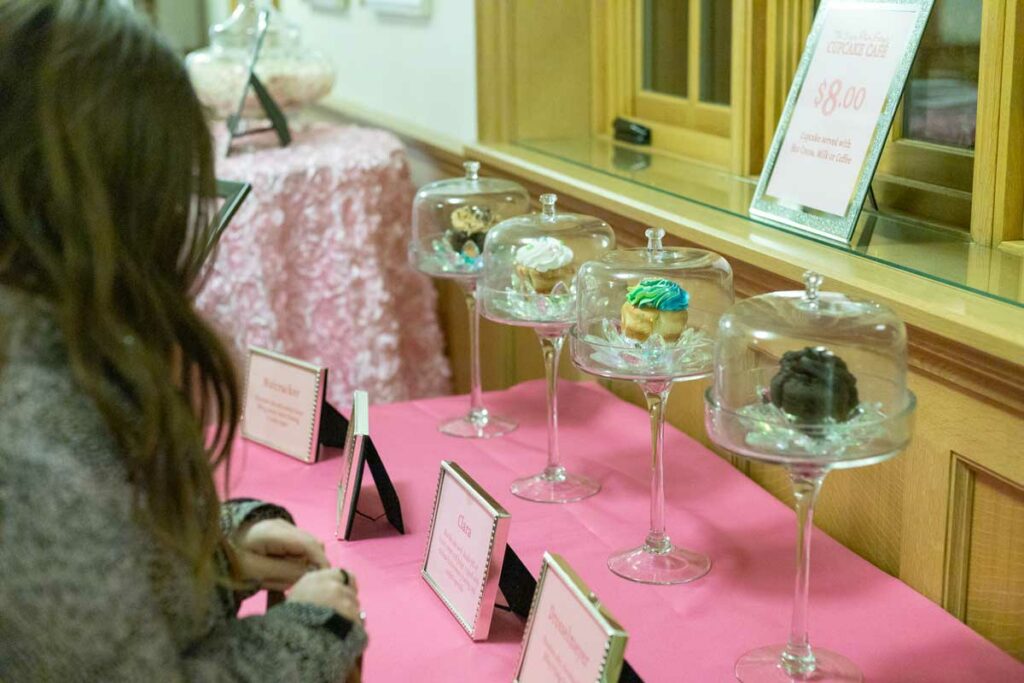 Sugar Plum Fairy's Cupcake Café
Our visit began at the Sugar Plum Fairy's Cupcake Café. We arrived about 45 minutes before our entry time tickets. Dress warm—the café is located on the Paine grounds, in the Conservancy. When you arrive at the main entrance, it's a short walk through the gardens. Just follow the holiday lighting! When we arrived at the Conservancy, we took off our jackets and picked up an order form. The welcome table also had four choices of cupcakes and it was helpful to have a visual to pick our flavors. The hostess took our order and sat us at a table.
As we enjoyed our cup of hot cocoa and delicious cupcake, we were greeted by the Sugar Plum Fairy! She was welcoming and friendly and chatted with us about visiting the castle and our holiday plans. The kiddos posed for pictures, and she even shared some of her dancing talents with us!
Sugar Plum Fairy's Cupcake Café is open Fridays, Saturdays, and Sundays. The cost is $8 and includes a cupcake and hot cocoa, milk, or coffee (and refills)! Cupcakes are made by Oshkosh's very own, Tamara's the Cake Guru. No reservations are needed for this option. The café is located in the Conservatory at the back of the Paine property. Find hours to plan your visit >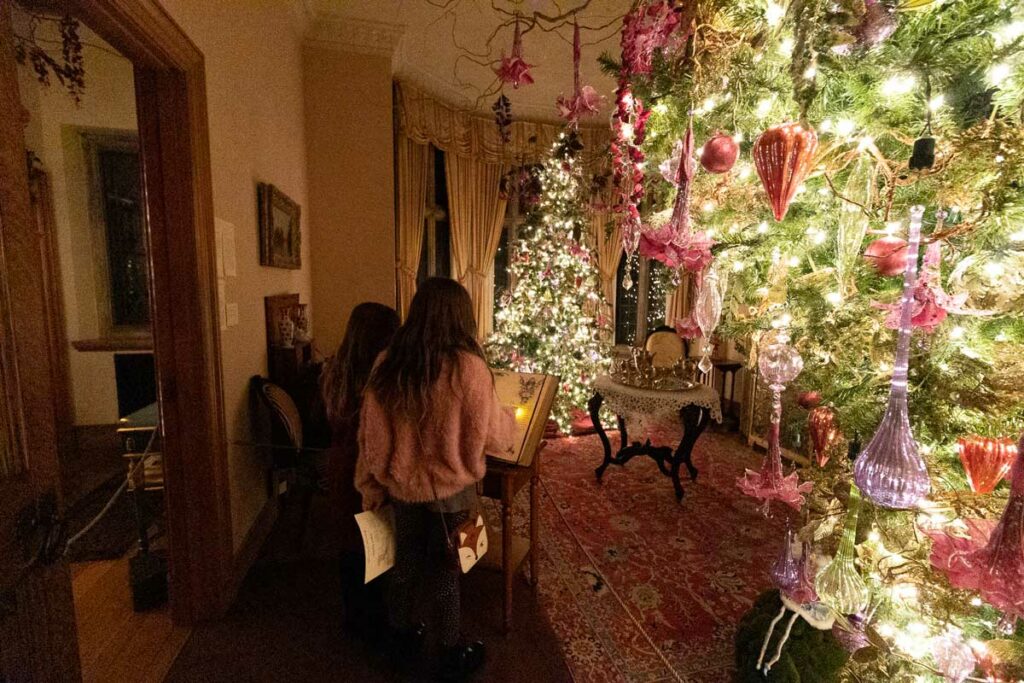 Tours through the Castle
Our family enjoyed a candlelight self-guided tour. We were able to explore the elaborately decorated rooms throughout the Paine at our own pace. When purchasing tickets, you'll reserve an entry time. The lights are dimmed on evening tours, and we each received a battery-operated candle to carry as we explored. We also picked up a mouse scavenger hunt that includes a helpful map. There are more than 60 mischievous mice hidden throughout the castle and the map gives tips on how many are in each room.
Each room has a massive book with a page from the nutcracker story. We took turns reading the pages, found the hidden little mice, and took in the beautiful decorations! Our favorite room was the Land of the Sweets in the dining room. The Cake Guru in Oshkosh creates and decorates over 50 "desserts" every year for a fantastic display! I think we could even smell the treats!
The second floor is decorated with the home and lifestyle of the Stahlbaum family in mind. Our favorites are the bedrooms, Godfather Drosselmeyer workshop, and the golden trees in the Gothic Gallery. The upstairs gallery also showcases antique European nutcrackers and fun folk items from the nutcracker tradition and folk tales.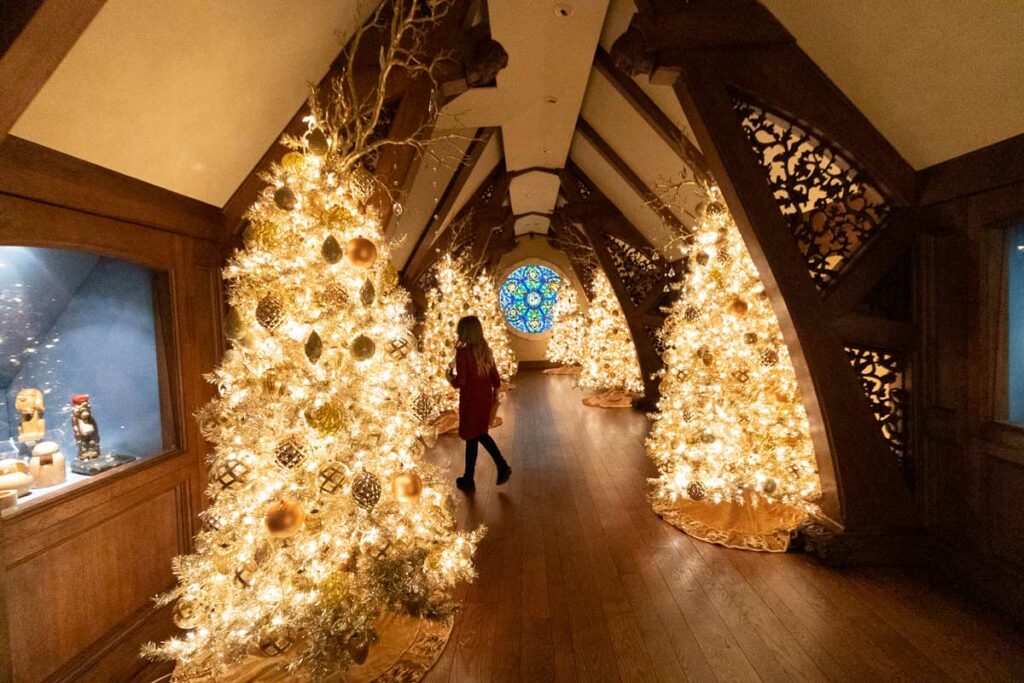 Three Ways to Visit the Nutcracker in the Castle
Self-Guided Tours – Visitors wander on their own in the daytime on a self-guided tour, reading the story in each room.
Candlelight Tours – These tours are self-guided in the evening, the lights of the "castle" are dimmed, and visitors receive a (battery-operated) candle to carry as they explore.
Guided Tours – Guided tours bring the scenes to life with live music, acting, and youth ballet performances by Valley Academy for the Arts, and Godfather Drosselmeyer guides visitors through each room.
Things to Know
Reservations are required for tours. Plan early—these fill quickly. Best availability is daytime, weeknights, and near or after the holidays.
How long does it take? Tours include visiting 20 elaborately decorated settings with more than 70 Christmas trees. Oversized books depict the story along the tour. A "Mouse Hunt" is also offered for children with 60 mouse figurines to find. You may tour the rooms at your leisure, which usually takes about 1 hour.
Large strollers are not allowed. However, umbrella strollers are available to use while visiting with small children.
FREE parking is available in the parking lot on Algoma Boulevard, located next to the Paine Mansion, which offers accessible parking spaces and a drop-off area near the entrance gate. Visitors may also park along the street on Algoma Boulevard, Congress Avenue, and Elmwood Avenue. Additional parking is available in Paine's ancillary lot on Elmwood Avenue.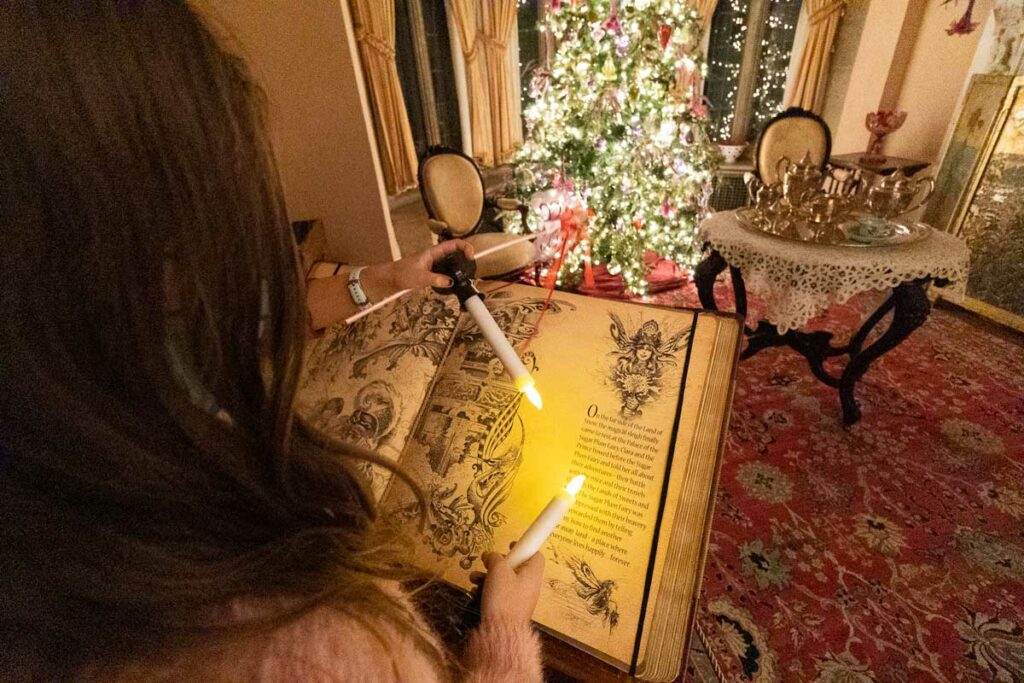 Get Reacquainted with the Nutcracker Story at Home
This Nutcracker Study Guide has excellent discussion prompts and resources for extended learning at home.
Listen to different versions of The Nutcracker score. Here are some options to start!
These sweet candy ornaments are easy and pretty!
Grownups… mix up a Sugar Plum Whiskey Smash cocktail!
Ballet not your thing? Check out this urban makeover of The Hip Hop Nutcracker!
Kids Free Days at the Nutcracker 2022
Once again, children ages 17 and under can enjoy free admission to self-guided tours of Nutcracker in the Castle on select days and times, courtesy of Verve, a Credit Union. During these times, children are admitted to a self-guided tour for free with a paid adult admission ($16). Verve will also collect donations to Toys for Tots under the giant Christmas tree.
Reservations required. Limit of five (5) free children per one paid adult admission. Children must be accompanied by an adult. Admission is free for Paine Members.
November 18–23, 2022

Nov. 18 | 10:00 am–8:00 pm
Nov. 19 | 10:00 am–4:00 pm
Nov. 20 | 5:00–8:00 pm
Nov. 21–23 | 10:00 am–8:00 pm
Verve will provide a professional photographer November 18–20 to capture your family photo free of charge. Once you have your photo taken, you'll receive information on how to view, share, and download the photo. Photos are taken in the Studio, located on the lower level of the mansion.
During Kids Free Days, the Sugar Plum Fairy's Cupcake Café is open:
Nov. 18 | 5:00–7:30 pm
Nov. 19 | 10:00 am–7:30 pm
Nov. 20 | 12:30–7:30 pm
Nov. 23 | 5:00 pm–7:30 pm
Enjoy your visit? Consider a family membership and explore the Paine all year round with beautiful seasonal surprises! Check out our visit to the gardens and mansion from this summer.
Paine Art Center and Gardens, 1410 Algoma Boulevard, Oshkosh