Surely, at the heart of every Wisconsinite, there is a little wedge of cheese, so it's only fitting that Plymouth, a small city in Sheboygan County, is the proclaimed Cheese Capital of the World!
Spend the day amongst cheese and history, plus opportunities for family fun, with a day trip to this charming city!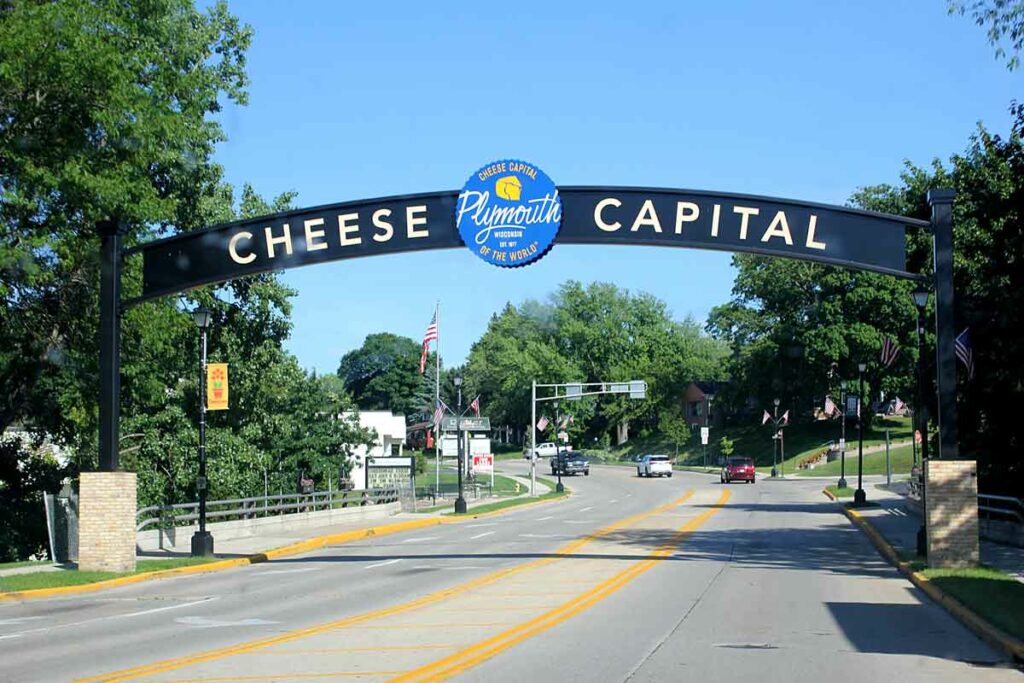 A Rather Cheesy History
Once the site of the National Cheese Exchange, Plymouth has quite a history when it comes to this dairy staple. Members of the exchange would meet to buy and sell cheddar cheese, in both 40-pound blocks and 500-pound barrels. Like the stock exchange, the closing costs circulated around the dairy industry and helped influence pricing. Now, the area is home to four major cheese processing facilities including Sargento, Great Lakes Cheese, Masters Gallery, and Sartori. Their products can be found all over the country as well as enjoyed in many local shops in Plymouth.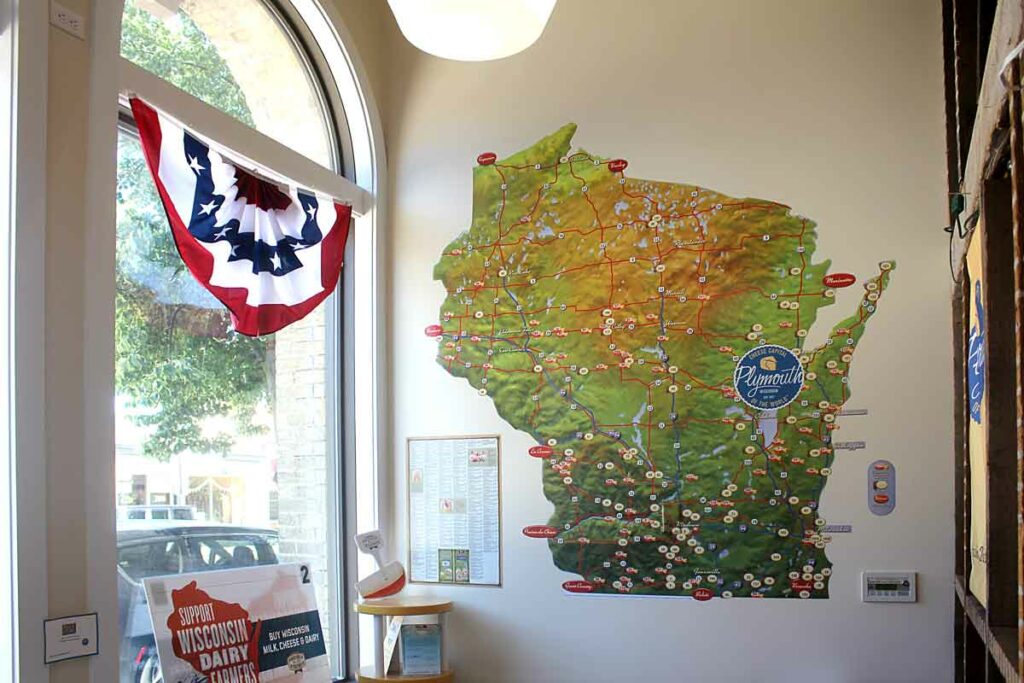 Things to Do in Plymouth with Kids
Visit The Cheese Counter & Dairy Heritage Center
Learn about cheese in this historical, downtown marvel and give it a taste test. Families can stop in and check out vintage milk bottles and Borden Dairy cow memorabilia. While browsing the shop, engage with the digital cheese table, interactive videos and quizzes and the selfie fun center. Along with stocking cheeses – including a chocolate cheese fudge (who knew?) The store carries meats, snacks, Jolly Good beverages, other to-go treats, and candies like gooey caramels and cow pies.
Stop by for lunch during the week and enjoy homemade cheese-centric cuisine! The onsite deli counter features gourmet grilled cheese, several kinds of mac and cheese, paninis, sandwiches, and hearty soups. Don't forget dessert! Grab a scoop of Kelley's Country Creamery ice cream, available in multiple flavors, in a cone, dish, or as a flight!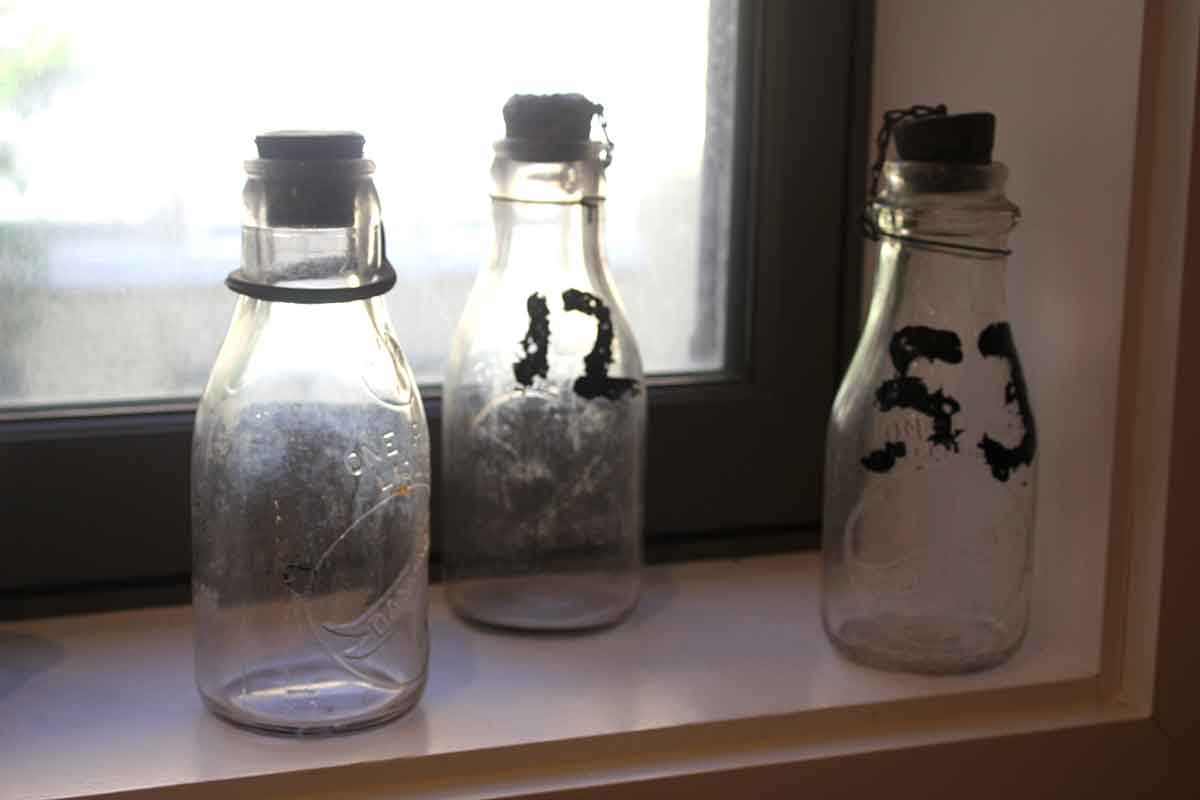 Play at Stayer Junior Park
Head downtown to an adorable park with a town of its very own! Stayer Junior Park is a personal family favorite that is always worth the drive itself. It is fittingly designed as a little farm and includes a climbable cheese truck, pig pen, rocking hayride seater, and a built-in finger farm maze.
Part of the playground features rubber ground, making it great for young children. Kids will enjoy the zipline in either a chair or on the rope swing and accessible options, such as ramps, a gliding slide, and a bungee saucer swing make it fun for those of all abilities!
Public restrooms are located adjacent to the parking lot and there is plenty of space to burn off energy and explore. The area also connects to paved walking trails that follow the river and the park is near murals and shops.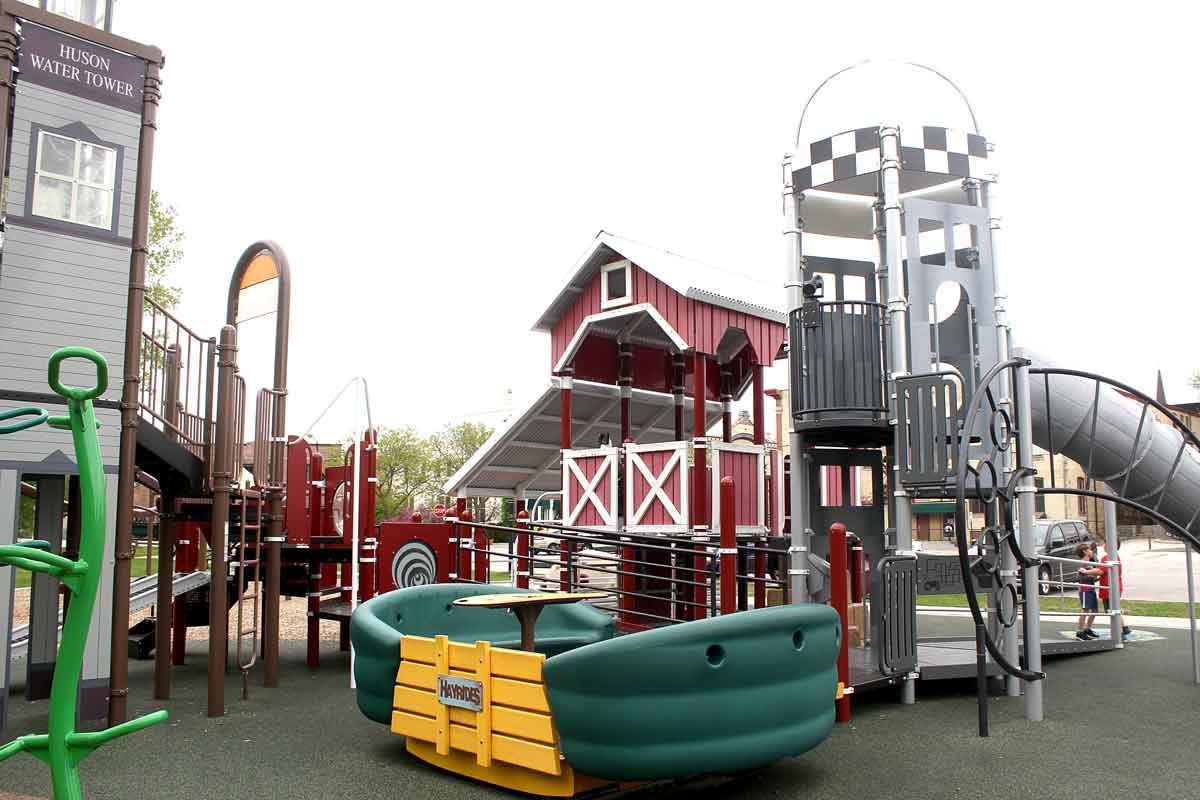 Take a Selfie with Antoinette
Say cheese! Snap a picture with Antoinette, the 20-foot fiberglass Holstein Borden Dairy cow. The statue, a local landmark, pays homage to Plymouth's dairy legacy and production. She was built in 1977 at the site of the Wisconsin Cheese Exchange during the late 19th century. During the city's Centennial Celebration, she was named after Jack Anton, who helped put up the statue for the celebration.
Antoinette Statue, 12 S. Milwaukee Street, Plymouth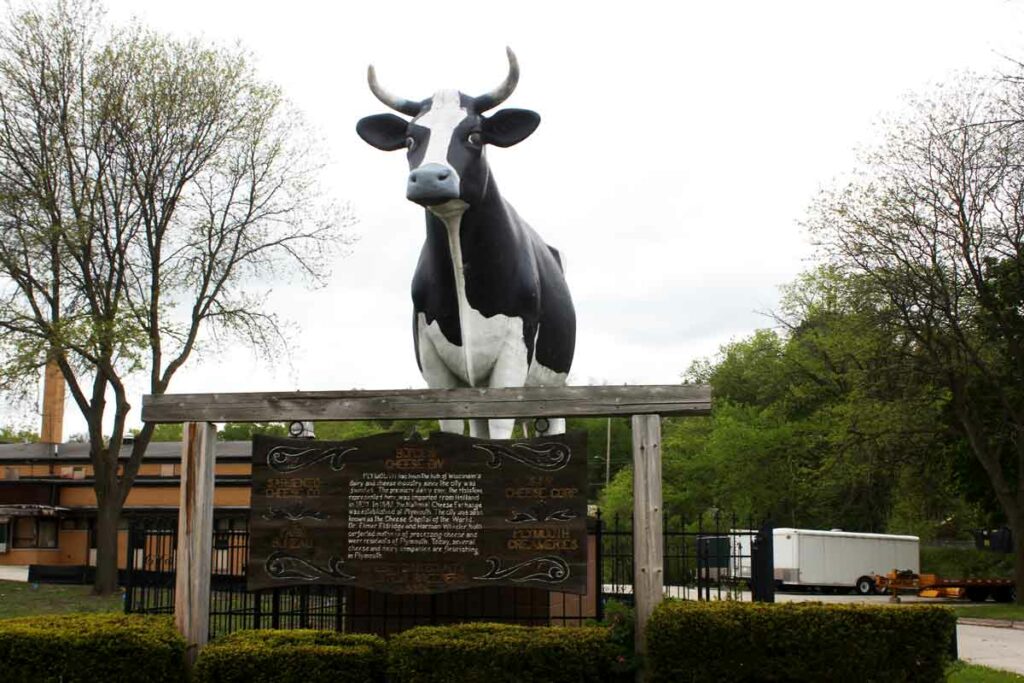 Check Out Unique Murals
Plymouth has 21 gorgeous murals painted on buildings downtown by world-renowned muralists, The Walldogs. Each depicts elements and businesses from the city's historical past. The murals can be seen on nearly every corner, from trains to planes and cheese. A Mural Map is available at the Visitors Center and most shops downtown. Enjoy them as you explore the city or go on a hunt for your favorite one!
Downtown Plymouth, Mill Street, Plymouth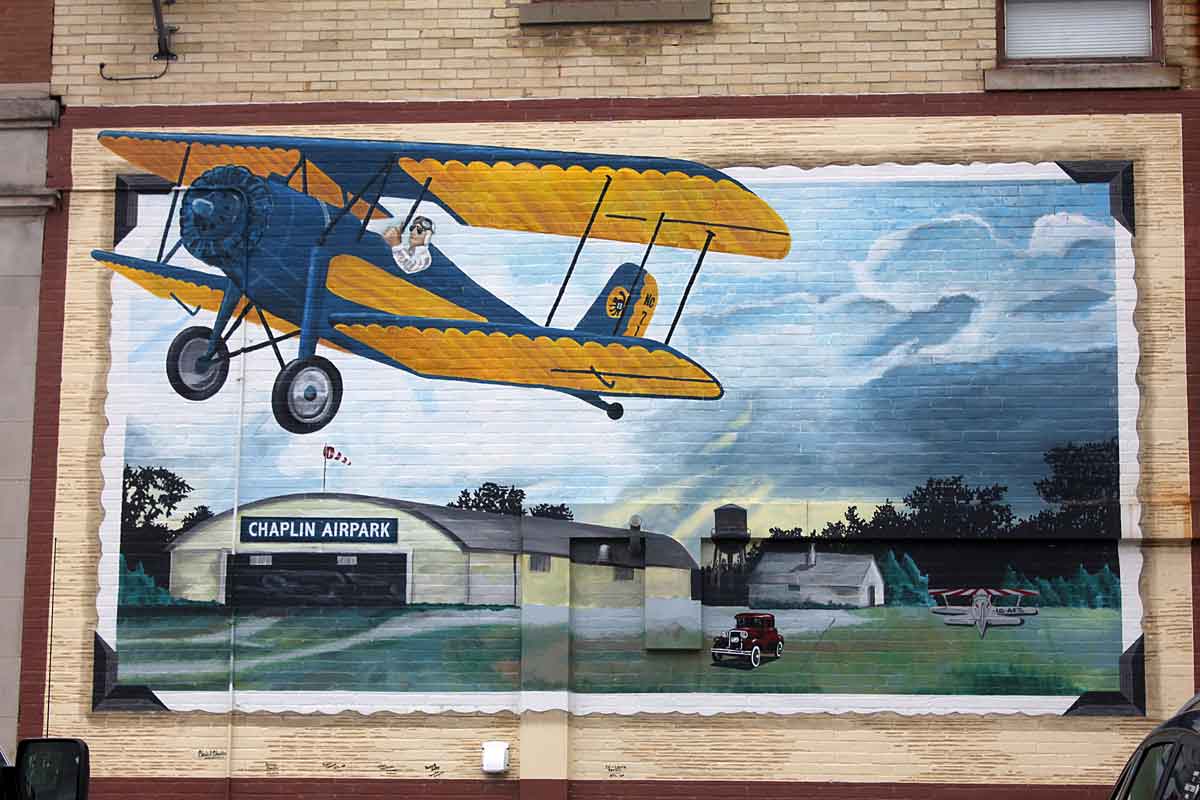 Stop by the Henry Huson House and Water Tower
Built-in 1870, the Henry Huson House was home to the former mayor. Along with being a prominent businessman in the area, Huson was known for his involvement in building the first city hall and the installation of kerosine street lamps.
Across the street from the home, which was once turned into a bed and breakfast, is a water tower. The water tower was privately owned by Huson and used to supply water to the home.
While you cannot currently tour the home, those who love architecture and history will enjoy passing by. The site is listed on the National Register of Historic Places. This was a fascinating find I happened upon by exploring and it quickly became a favorite. It's rare to find a home with its own water tower!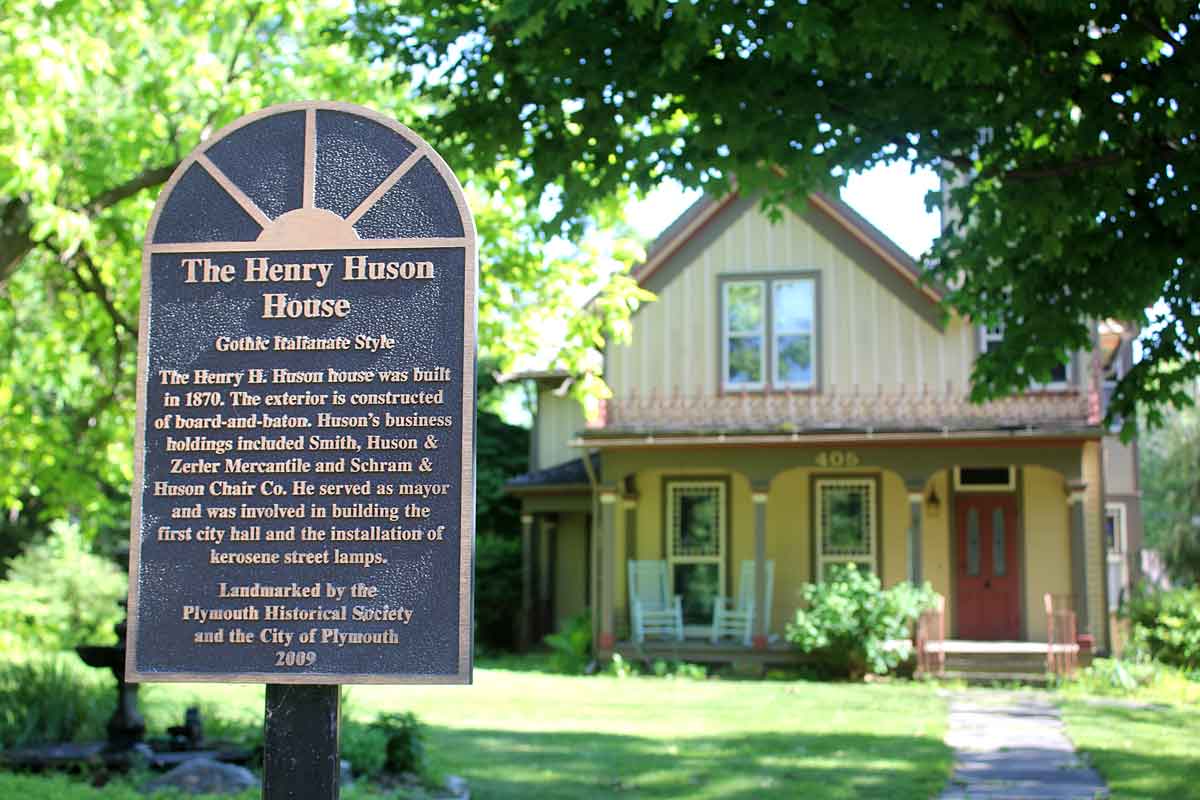 Go on a Walking Tour
Enjoy the sunshine and view historic buildings and places with a self-guided walking tour around Plymouth! A pre-planned map with points of interest and landmarks is available for free and includes descriptions and photos. Be sure to check out the beautiful Mullet River and cross the Edna Street Foot Bridge to get across town and enjoy nature.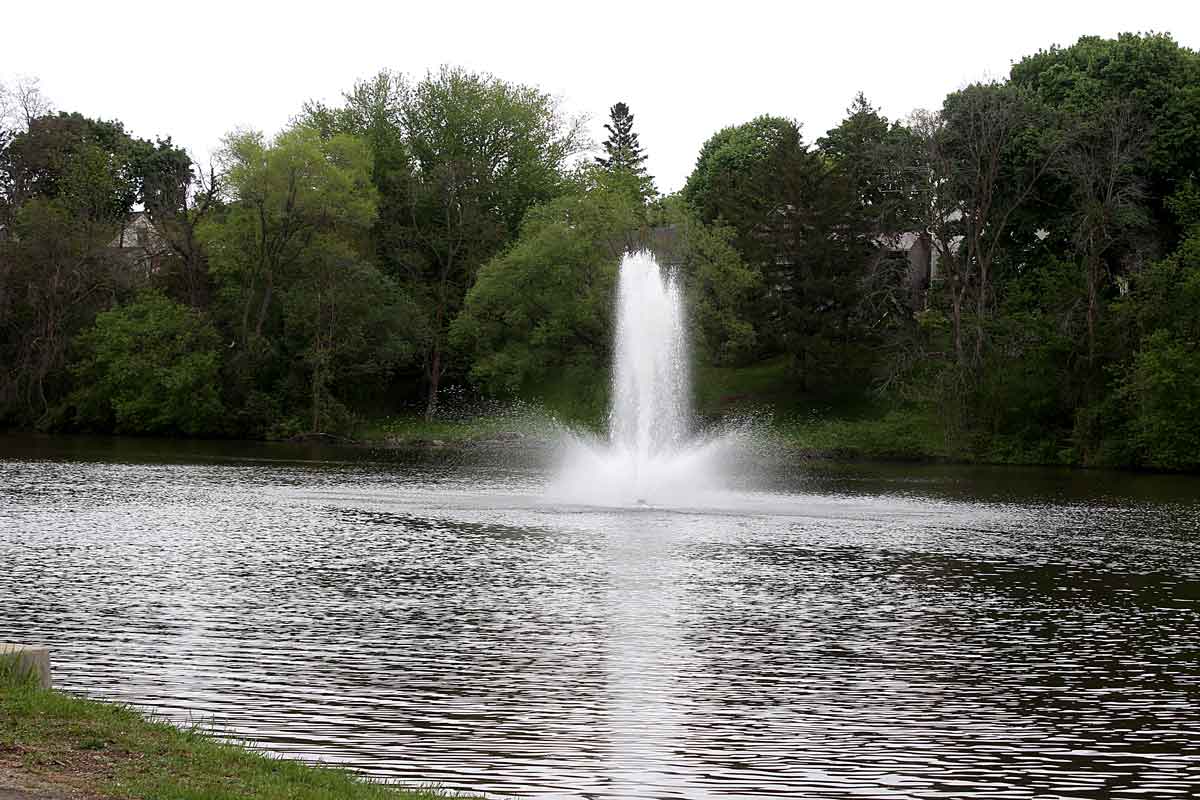 Grab a Quick Bite
Plymouth is full of amazing spots to eat, and you better bet they have something with cheese! From a classic drive-in to casual sit-down dining and a restaurant a little more upscale, here are some approving recommendations!
Antoinette's Casual Dining, 18 W. Mill Street, Plymouth

Family-friendly atmosphere featuring mouthwatering appetizers, entrees, and Plymouth's best Mac & Cheese.

Chester's Drive-In, 1504 Eastern Avenue, Plymouth

A classic drive-up with cheeseburgers, fries, shakes, and ice cream treats.

The Fig and Pheasant, 52 South Stafford Street, Plymouth

Savor exquisite chef-prepared dishes like Fish & Chips, Walnut Quinoa Herbed Cheese
Tarts and Vanilla Bean Creme Brulee in the historic restaurant and inn.
Drive Past the Cheese Factories
Before heading home, check out the major cheese factories in the area! Some may offer tours during special events. Have you tried products from these cheese gurus?
Sartori Cheese, 2 E. Main Street, Plymouth
Sargento, 1 Persnickety Place, Plymouth
Great Lakes Cheese, 2602 County Road PP, Plymouth
Masters Gallery, 411 County Rd PP, Plymouth
After a day filled with fun, you'll need a gouda rest. Hopefully, you also picked up some cheese nibbles for the ride home!
Explore Plymouth Map
Do you use Google Maps? We have assembled all these spots for you on a Google Map! Keep track of all the fun stops you visit, directly GPS to them by car or foot and share the trip with others!