On our latest podcast episode Let's Talk About Family Wellness & Connection, Amanda Chavez and Karlene Grabner are joined by Siri Smits and Kate Salzsieder to talk about enjoying the outdoors and meals together, as well as how to encourage healthy movement and eating. What are some ways to enjoy the outdoors together? How do we manage everyone's preferences around dinners and encourage kids to eat their lunches? How do make time for all of this and connection in our busy lives? We tackled these questions and more with help from our guests. Here are some resources that they've recommended, as well as suggestions from other friends of Go Oshkosh Kids and some of our own team's ideas.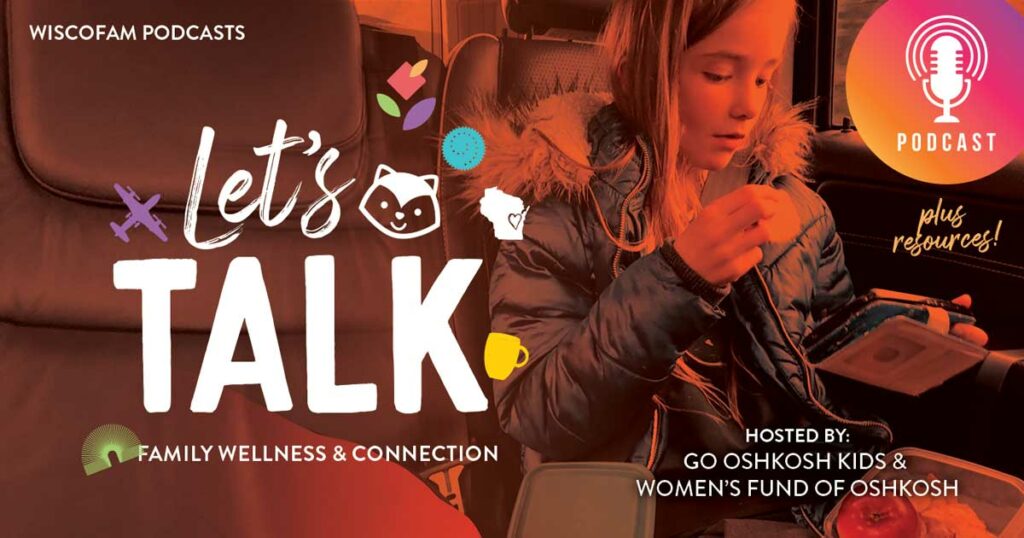 Getting Outside
It can be tricky to fit consistent time outside into a busy family schedule. We're here to assure you that you don't need to have a big plan or outing to go on—keep it simple!

One trick we use is to bring what they love to do inside, outside. One of my kids loves to draw, so bringing along sketchbooks and a portable watercolor kit makes spending time outside at home or on the go quietly and observing our natural surroundings more appealing. Our other child loves to read, so he brings along a book and stretches out nearby his sister while she draws. They both love to identify new plants using the app Seek.

In the episode we talked about squeezing in a little time to play after school before transitioning to home or afterschool activities and the simplicity of just taking a short neighborhood walk.
Here are 18 more easy ideas to fit naturally into your schedule from Active for Life: Raising physically literate kids.
The idea presented at 1000 Hours Outside is to match the time that we spend with screens with time spent outside. They have fun and free printable trackers to make keeping track of your outside hours fun.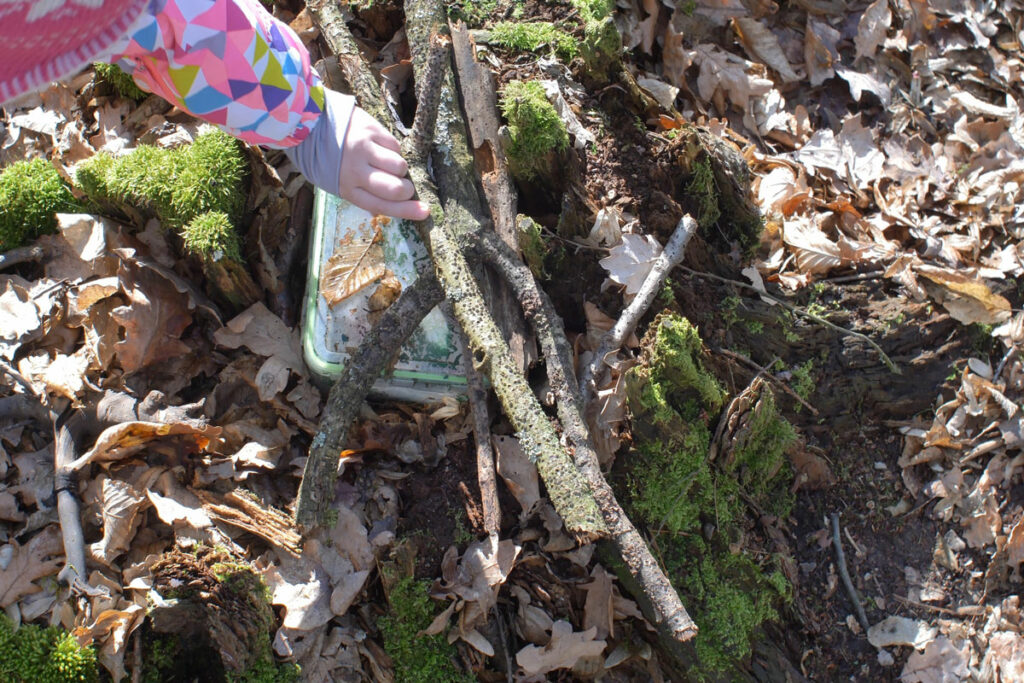 Ideas to Try While Logging Your 1000 Hours Outside
Letterboxing – This is a fun low tech treasure hunt similar to geocaching. The "treasure" is getting a new stamp and leaving your signature stamp behind, you can carve your own or find a fun premade stamp.
Geocaching – You'll need a phone to use GPS to lead you to the treasures for this one.
Nature Journaling – This can be as simple or complex as you would like to be. You can create your own journal or find premade journals and printables online.
Photo Scavenger Hunt – Instead of finding things to pick up or check off a list, grab a camera or phone and take photos of the things on your list! This is especially fun for spotting animals at nature centers.
Scavenger Hunts – We love all the options on Pinterest.
Binoculars – Find a pair of kid-friendly binoculars for seeing far away birds, animals and more and maybe a magnifying glass for tiny things up close!
Hiking Accessories – Do not underestimate the power of child size trekking poles to make hikes with kids more fun. They're also fun as an adult and can be helpful for varied terrains.
Snacks or Hot Chocolate – Another incredible motivator! Hot chocolate is so much fun on a winter hike, skating, or sledding trip in an old fashioned thermos! Reusable snack bags make it easy to pack out what you bring in to parks and trails.
Find Animal Tracks (and scat in the snow) – Hone everyone's tracking and identification skills by checking out what they've—ahem—left behind. There are helpful portable guides made just for kids for this task.
Trying New Movement and Activities
Our friends from the University of Wisconsin-Madison, Winnebago County Extension have some great insight about outdoors, play, adventure, and kids in sports to share with families.
Why & How to Encourage Adventurous Play – How do you feel when your kid climbs a tree or balances on rocks near water? Maybe worried that the risky play will end in an injury? In this Parenting: Behind the Behavior Pattie Carroll will talk about what kids gain through risky play and how parents can support safe yet adventurous play.
The Power of Play – Play is a fun, low cost, or even no cost way to build your child's brain, body, and social connections. Pattie Carroll describes the acronym T.O.P.P as a way parents and adults can encourage and grow children's play.
To Push or Not Push: Finding Balance in Kids' Athletics – Sports have so many benefits for children that it can be hard for parents to limit them. In this Parenting: Behind the Behavior Extension Outreach Program Manager Brook Berg talks about how to balance the benefits of sports with the benefits of downtime.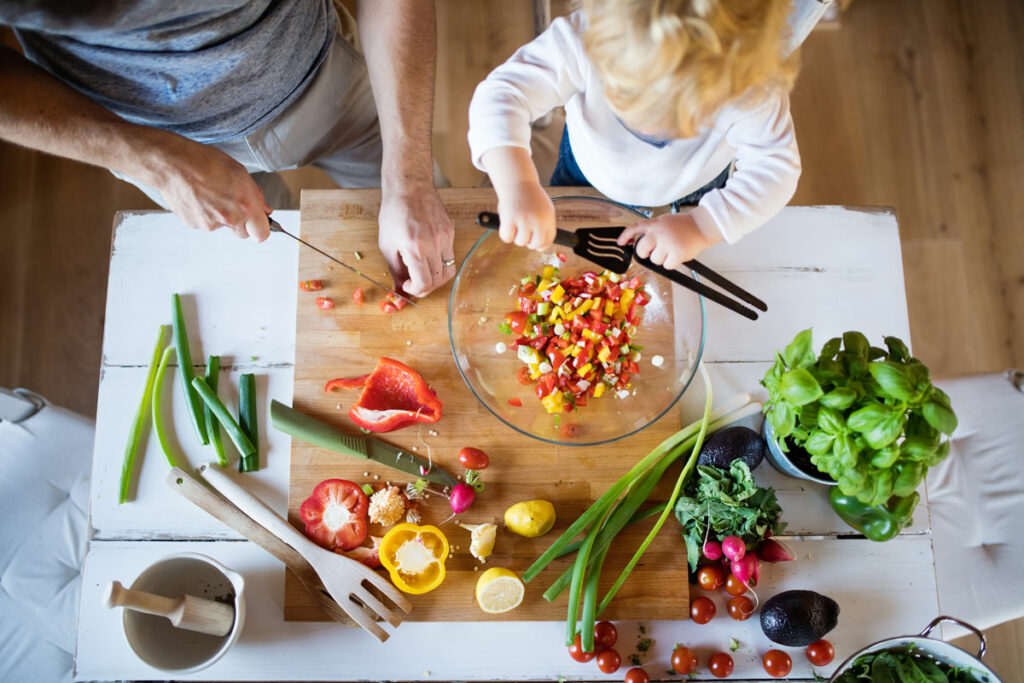 Thinking About Food and Family Meals
Resources Recommended by Kate Salzieder from the podcast episode: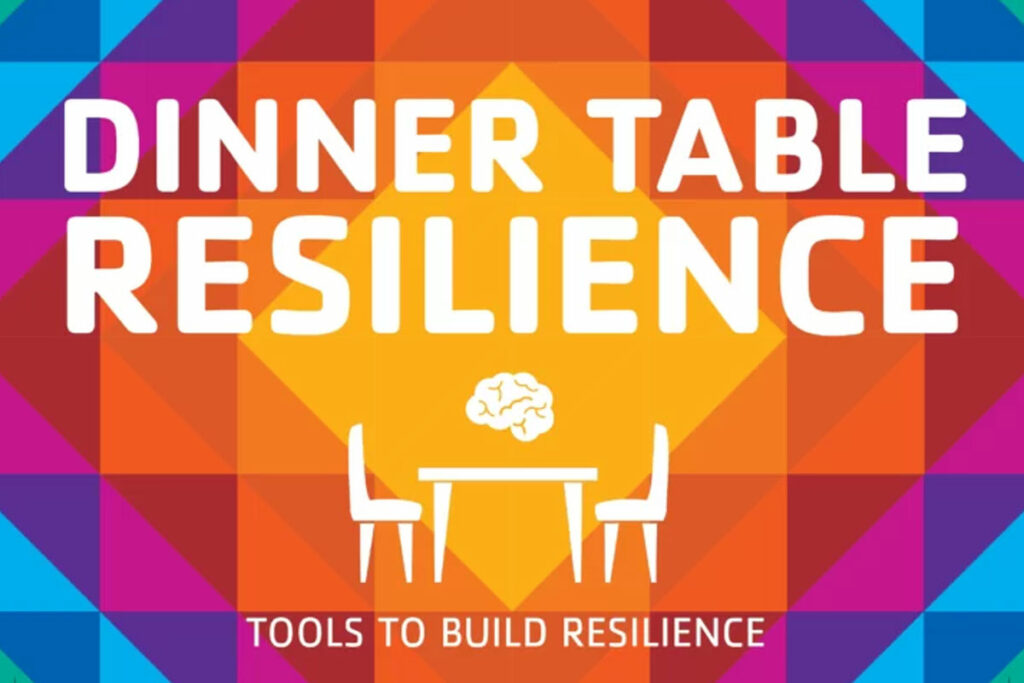 We talked about the video resources available from the LaCrosse YMCA that can help your family to discuss important mental health topics in the time that we're spending together for a meal:
Sarah Johnson, Mental Health Director presents 3-5 minute videos and accompanying skills sheets in Dinner Table Resilience.
Resilience is our ability to thrive, adapt, and cope despite tough and stressful times. It is foundational to our mental health and is like a muscle, the more we train it, the stronger it gets. It grows through healthy and supportive relationships, taking care of ourselves and others, and asking for help when we need it.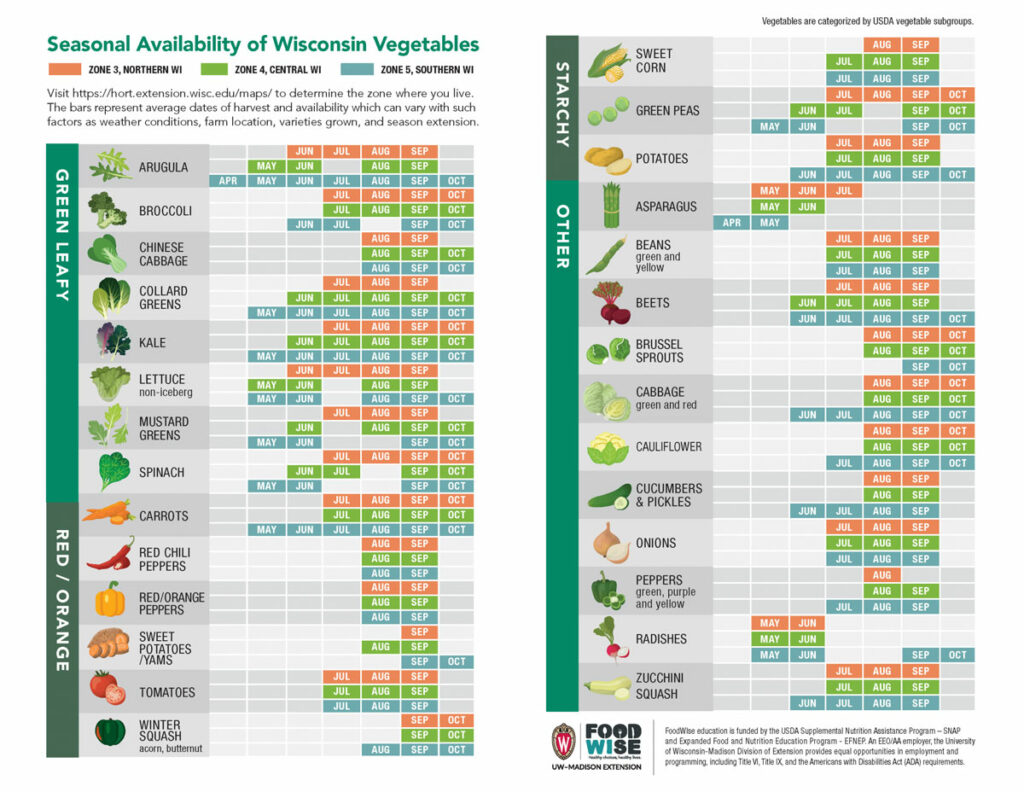 Cooking Together Can Be Simple and Fun
Getting kids cooking can help them to be open to trying new foods. Another great resource from University of Wisconsin-Madison, Winnebago County Extension is a free virtual cooking series with new recipes on the Second Friday of each month. There is a Spanish Interpreter present for each session. Registration is quick and free! The next session is on March 11th at 10 am.
Their educators have been creating recipe demonstrations and farm market videos as well.
Here are some of their favorite recipes:
Their FoodWise Playlist features tips and recipes for families in short easy to watch videos available in English, Spanish, and Hmong languages.
Thanks again to our guests, Kate and Siri for joining us and sharing their knowledge and some of these great resources. We'd like to send a special thank you to Brandy Hankey from Oshkosh Community YMCA for connecting with us to collaborate on this episode but she needed to be home for a sick kiddo on our recording day — we missed you, Brandy!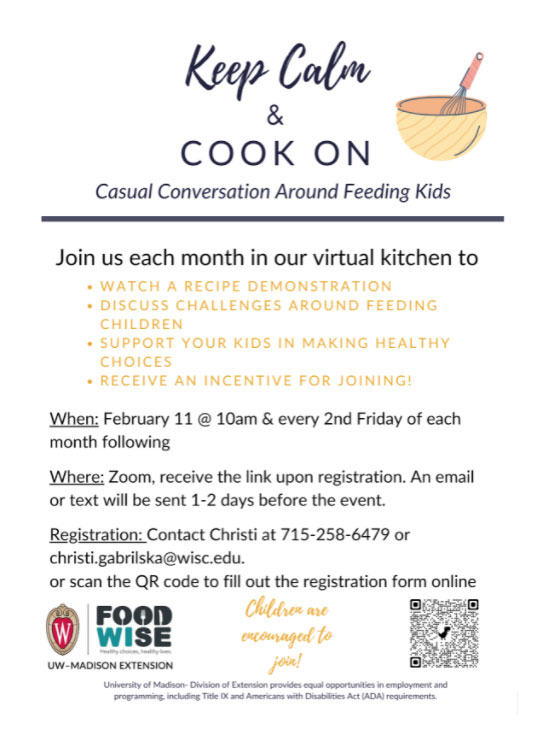 About our Guests
Kate Salzsieder-Wendrick RD, CEDRD, Registered Dietitian, Food and Nutrition Services, Aurora Medical Center – Oshkosh

Kate is an Oshkosh native living in Neenah with her newly blended family of her husband and their four daughters. Kate received her education from the University of Minnesota – Twin Cities and has been a Registered Dietitian Nutritionist since 2005. Kate currently can be found at Advocate Aurora Health in both the hospital setting and the Oncology center. In her free time, she enjoys reading and working on puzzles.

Siri Smits, Member and Community Engagement Director, Oshkosh Community YMCA

Oshkosh native, Siri has been supporting the YMCA professionally for over seven years, but growing up on the swim team, the Oshkosh YMCA has always been part of her life. In her role as the Community Engagement Director, she educates the community and Y members about all the wonderful things they do at the YMCA and Oshkosh.

Brandy Hankey, MS, Director of Wellbeing & Group Exercise, Oshkosh Community YMCA

Brandy lives in the Fox Cities with her husband, Ethan, and their children, Quinton and Vienna. Brandy started her health, wellness, and disease prevention centered career with the YMCA before completing her undergraduate degree at UW-Stevens Point and then her Masters of Science in Human and Community Resources in 2012. She has been with the Oshkosh Community Y since 2015 as the Director of Wellbeing and Group Exercise and thinks of the 20th Street YMCA as her second home. When her family is not at the Y, her family loves playing together outdoors at neighborhood parks and playgrounds.