On our latest episode of Let's Talk About Reading & Literacy, Amanda Chavez and Tania Harrison are joined by Kelly Steinke and Kallie Schell to talk about reading, literacy, and how to identify reluctant readers vs readers in need of intervention. What are some ways to encourage reading? How can we incorporate more reading time? How is reading reluctance different from problems with learning to read? We tackled these questions and more with help from our guests. Here are some resources that they've recommended, as well as suggestions from other friends of Go Oshkosh Kids and some of our own team's ideas.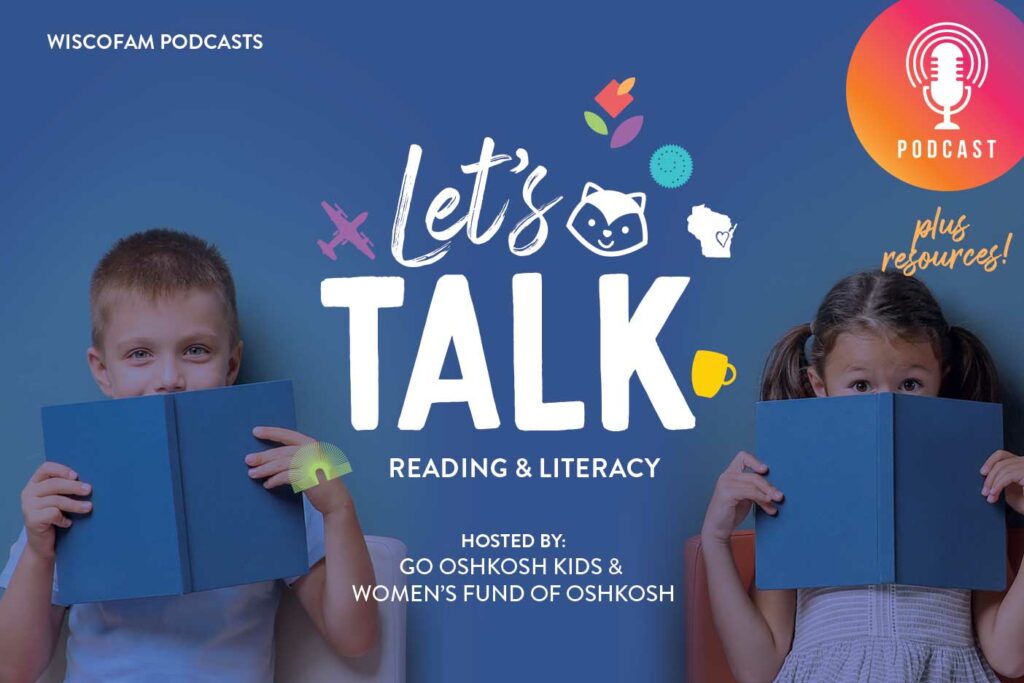 Resources from Oshkosh Public Library
Family Storytimes for preschoolers, their grownups, and siblings 

May: 9:30 am
June 6 – August 29, 2022: 9:30 and 10:30 am

High Hopes Early Literacy Storytime

Enjoy songs, fingerplays, stories, and movement while learning how to teach your baby or toddler the skills they will need to become readers.
Through May 25, 2022: 9:30 & 10:15
June 1 – August 31, 2022

Wednesdays 9:30 & 10:15 am 
Thursdays 9:30 am 

High Flyers Early Literacy Program & Take Home Kit

For children 6 months – 4 years old
Talk, sing, read, write and play every day with this self-paced at-home program.
Your free kit includes tips, examples, and activities for each developmental stage. 
Log activities on the included tracking sheets to incorporate literacy throughout your day and receive incentives along the way!
Smart Starts Play Stations

Monthly hands-on stations for children ages 1 – 4 that encourage interactive learning, discovery, and early literacy skills
Drop-in anytime during the 2-hour session
Wednesdays May 18, June 15, July 20, and August 17, 2022, starting at 9 am

Explorers Grove

Featured in the children's section of the library, Explorers Grove is a fun bright area under a tree that promotes curiosity, learning, self-expression, and discovery.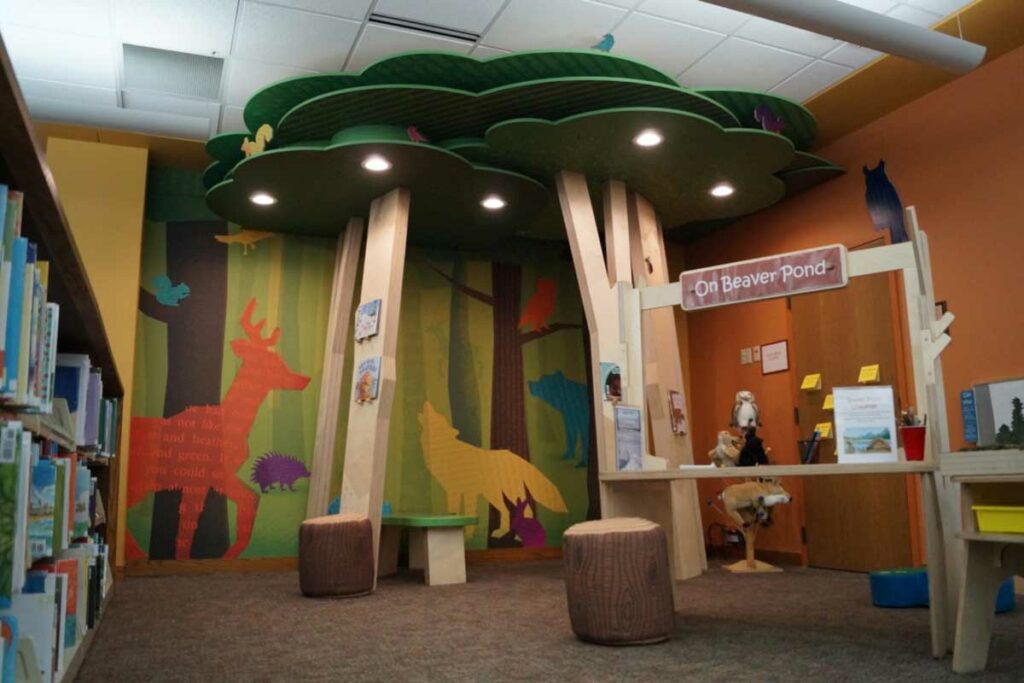 How to Get Your Child to Love Reading
Reading Aloud – Start early and keep reading to them even after they can read on their own. 
Keep Books at Home – Having books, magazines, and newspapers around the house that everyone can enjoy makes reading a part of daily home life.
Choose Books Your Kids Will Enjoy – Check out award-winning books, share your favorites from childhood, and ask your children's librarian for suggestions.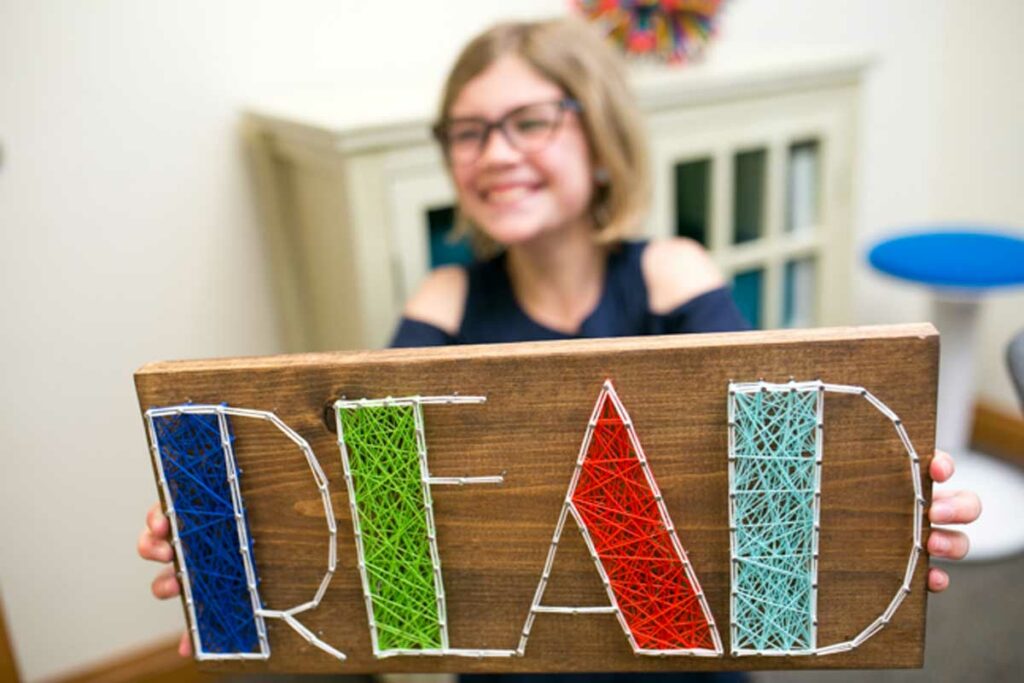 Dyslexia Resources & Information from READ Learning Educational Services
READ Learning Educational Services, LLC was founded in 2011 by, Kelly Steinke. READ is an educational service company that offers solutions to those affected by dyslexia, dysgraphia and other learning disabilities. Their learning center has a reputation for offering highly effective one-on-one private teaching interventions, using research-based approaches, in reading, spelling and writing. They are also known in the community for our dyslexia testing, courses/training in executive functioning skills, educational consultations and professional development training. READ Learning is located in Grand Chute and is open by appointment only.
Things to Know About Dyslexia
Dyslexia is hereditary. Children with a dyslexic parent have a 50% chance of being dyslexic.
Individuals with dyslexia often have superior strengths – visual-spatial skills, leadership qualities, athletic ability, musical aptitude, empathy, creativity and critical thinking.
Dyslexia affects 1 in every 5 people in America – that's 20%.
Dyslexia is estimated to comprise 80% of all reading disabilities.
40% of individuals with dyslexia also have a form of ADD.
Children are usually not identified as having a reading disability until the 3rd or 4th grade. This is past an optimal age for intervention.
Children can be tested for dyslexia as early as 5 years of age.
10 Tips on Dyslexia Testing from READ Learning
Dyslexia screening is different from dyslexia diagnosis
You do not need a dyslexia screening or diagnosis to pursue private teaching/tutoring.
Public schools DO NOT test or screen for dyslexia.
A pediatrician or general practitioner does not diagnose dyslexia.
A child can be tested for dyslexia as young as 5 years old.
There is no single test to diagnose or screen for dyslexia.
No one should go through dyslexia testing unless dyslexia is very probable.
Dyslexia testing is never covered by insurance.
Carefully research before paying for dyslexia screening or diagnosis.
A diagnosis of dyslexia will ensure specialized services in the school setting.
Full details about each of these tips
Characteristics of Dyslexia from READ Learning
Preschool & Kindergarten (PK &K)

Delayed language development
Left and right confusion
Late to choose a dominant hand
Difficulty learning to tie shoes
Can't rhyme
Chronic ear infections
Difficulty remembering how to spell name, memorizing address and phone number

First – Fourth Grade (1st, 2nd, 3rd & 4th)

Delayed ability to connect letters to their sounds
Reverses letters and numbers
Cannot remember sight words
Poor fluency
Hard to read handwriting
Says the wrong words when speaking

Fifth – Eighth Grade (5th, 6th, 7th & 8th)

Continued difficulty with sounding out unfamiliar words
Oral reading fluency weak
Word problems are difficult in math
Written expression is weak

High School (9th, 10th, 11th & 12th)

Persistent reading difficulties
Continued difficulty with directionality
Poor grades or having to twice as hard as peers
Difficulty with foreign language
Misunderstanding information that is read
Trouble pronouncing common words
Thanks again to our guests, Kelly and Kallie for joining us and sharing their knowledge and some of these great resources.