There is nothing quite like heading out for a tour of holiday light displays. Northeast Wisconsin is home to some of the best Christmas lights in Wisconsin! Whether you are looking for Christmas lights to music, unique displays or lots of eye candy, our handy guide will help you find the best Christmas lights near you. Grab the popcorn, fill the thermos with hot chocolate, and enjoy this free fun family tradition.
Want more? Find a list of lights in the Fox Valley on our sister site, Go Valley Kids!
Have an update to share with us or want to add your home? Submit here.
Editor's Note: This article will be updated weekly.
Oshkosh
Oshkosh Celebration of Lights, Menominee Park, Oshkosh (music)

Opens November 27, 2020
Santa will be in his Workshop in a non-contact environment from November 27 thru December 23rd from 5:30 – 9:00 pm. On Christmas Eve, Santa will be out with his reindeer delivering presents.

Brody's Christmas Lights for Charity, 1874 Westbreeze Dr., Oshkosh (music)

Thanksgiving, November 26, 2021 – January 1, 2021
Hours: Sunday – Thursday: 5:30 to 9 pm, Friday – Saturday: 5:30 – 10:00 pm
Radio Station: 88.3 FM
Donations: Oshkosh Area Community Pantry's Food 4 Kids program

Sunnybrook Lights, 1510 Maricopa Dr, Oshkosh

Dates: December 3, 2021 – January 1, 2022
Hours: 5 – 10 pm
Radio Station: 104.1 FM

Christmas SpecStackular, 335 Sunnybrook Drive, Oshkosh (music)

Starts December 1, 2021
Come enjoy our Christmas Light display feat. over 10,000 LED lights synchronized to music! The show runs for approximately 16 minutes on a continuous loop from 4 pm – 10 pm throughout December. Tune to 88.5 FM to hear the music. Spreading Christmas joy since 2009!

Grace Lutheran, 913 Nebraska St, Oshkosh

Radio: 89.7 FM
Hours: 6 – 9 pm daily

Kramerica Park, 1160 Laager Ln, Oshkosh (music)

Radio Station 89.7 FM
8,030 LEDs (1,280 new display)

911 Anchorage Court, Oshkosh

Animated display with music on 88.7 FM
Hours: 4:30 – 10 pm

Comanche Ln. on the Lake Road between Neenah & Oshkosh
1912 Delaware Street, Oshkosh (music)

Synchronized to music on your car radio. All genres of Christmas songs.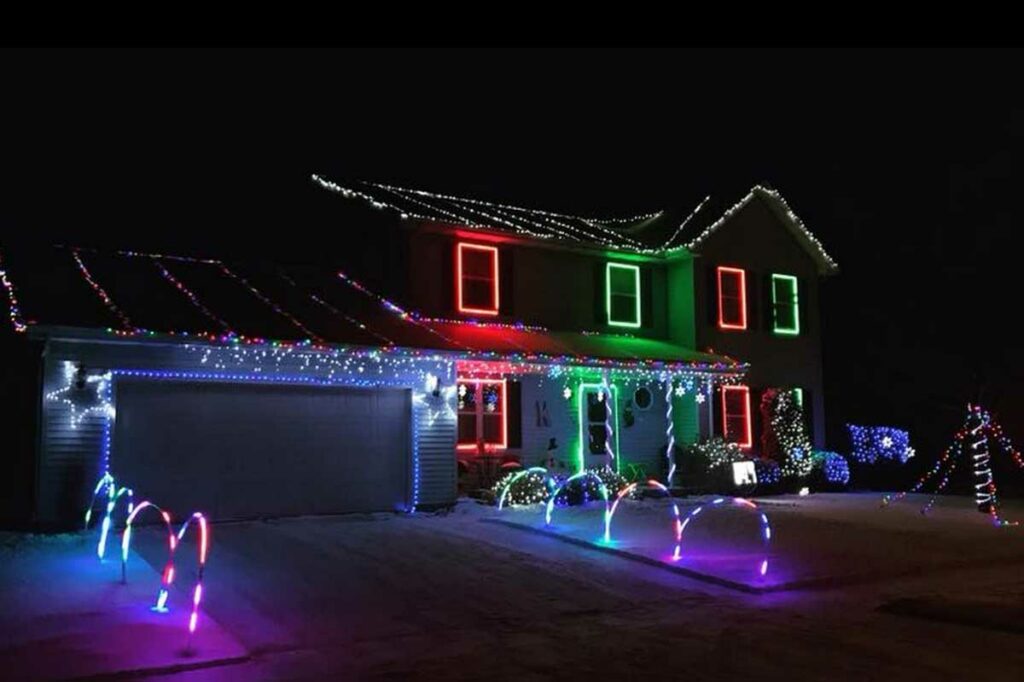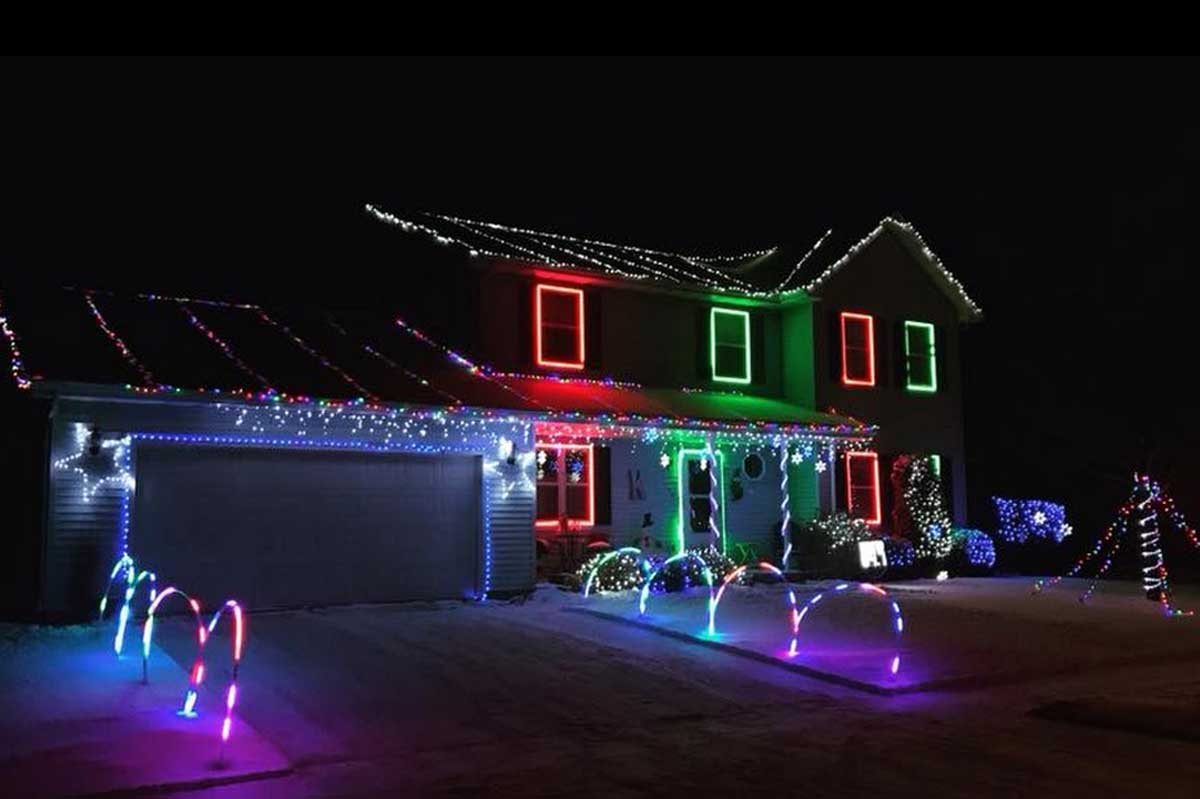 Omro
Benesh Lights on Georgetown, 4032 Georgetown Dr, Omro

Hours: November 26, 2021: dusk – 10 pm!

Monday – Thursday dusk – 9 pm
Friday – Saturday: dusk to 10 pm – January 2, 2022

4,000 individually controllable lights synchronized to music
Radio: 88.7 FM
Ripon
Accurate Controls, 420 E. Oshkosh St

Sunday – Thursday: 5 – 10 pm, Friday – Saturday: 5 -11 pm
Berlin
Fischer Light Show, 524 Maple Ridge Rd, Berlin

special Packer song (Go Pack Go) on Packer game days
Hours: 6 – 9 pm on weekdays, Weekends: 6 – 10 pm on weekends
Tune to 89.7 for music
Collecting non-perishable food itema for the Berlin Food pantry and cash donations for the Boys & Girls Club. Donations can be placed in the bin labeled with your favorite of the two songs playing so we know what the crowd favorite is for the next year.

Light the Park at Nathan Strong Park, Berlin

Achieving a Better Community, (ABC Group) sponsors Light the Park at Nathan Strong Park in Berlin. The park has more than 130 lighted and decorated Christmas trees. Dusk to dawn, until January 8. Folks can drive all around the park or park the car and walk through the park located at E. Huron and Church St. Trees are provided by the ABC Group and then "adopted " by individuals, families, clubs and businesses and are decorated in memory of a loved one, cause awareness, supporting police, veterans, etc.
Waupun
Sam's Light Show, 1134 West Main St, Waupun

Starting Dec 3rd, we will begin running the light show nightly from 6pm – 10pm until mid-January. There are 2 different shows each hour. Show 1 is approx 20 mins long and starts on the hour. Show 2 is also approx 20 mins long and starts on the half-hour. The first show begins at 6pm, and the last show starts at 10pm.To enjoy this free present from us, you simply drive to 1134 West Main St, Waupun, WI. Follow the signs to the show and pull your car up to the Christmas light parking line. Then turn off your headlights, tune your radio to 91.5FM, and enjoy!
Weyauwega
129 East Main Street, Weyauwega

Main Street Light Show every Friday, Saturday, and Sunday in December from 5 pm – 10pm.