When is a fish store more than just a store? Visit Sanctuary Aquatics to find out! This new addition in Oshkosh will surely draw in visitors from all around the area and beyond, and they are excited to be able to welcome folks into their space after a long wait to open. Six years in the making, Sanctuary Aquatics is built from the ground up to be a location not just to buy a new pet or supplies but also to stay awhile and learn about all of the exciting things happening here.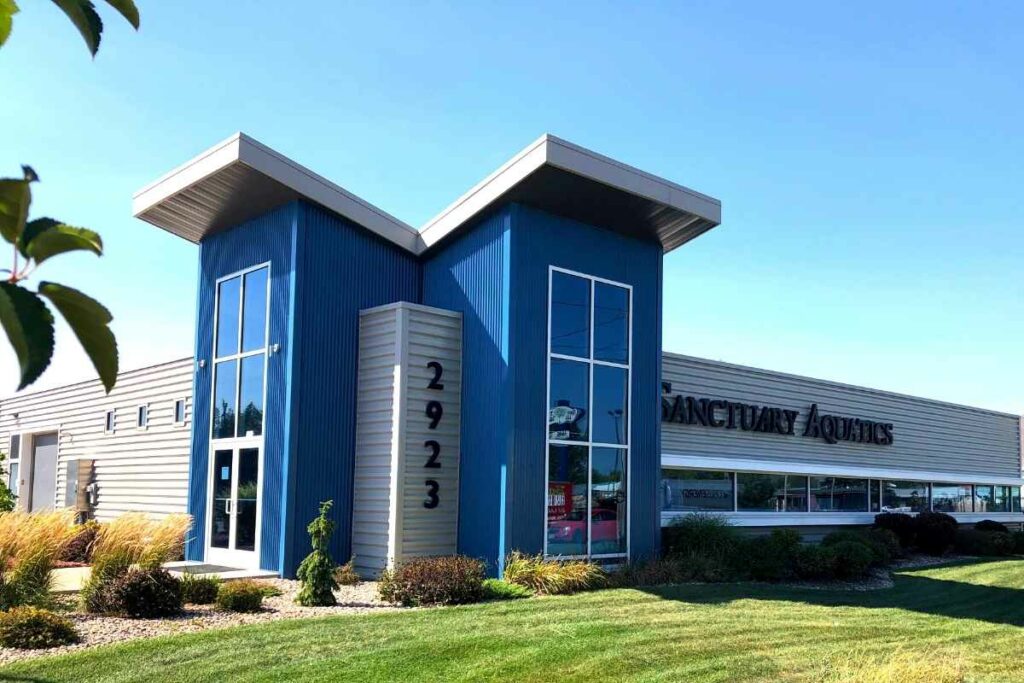 What to Expect When You Visit Sanctuary Aquatics
You'll enter the building into a freshwater fish area. There are multiple tanks to observe fish of all sizes, and you might be surprised by how colorful and fun some of the creatures are! Do not miss the stingray tank on the right! It is low and open, making it excellent to observe their movement. To the left, you'll find a slightly enclosed area full of cool freshwater specimens and plants—be sure to check it out!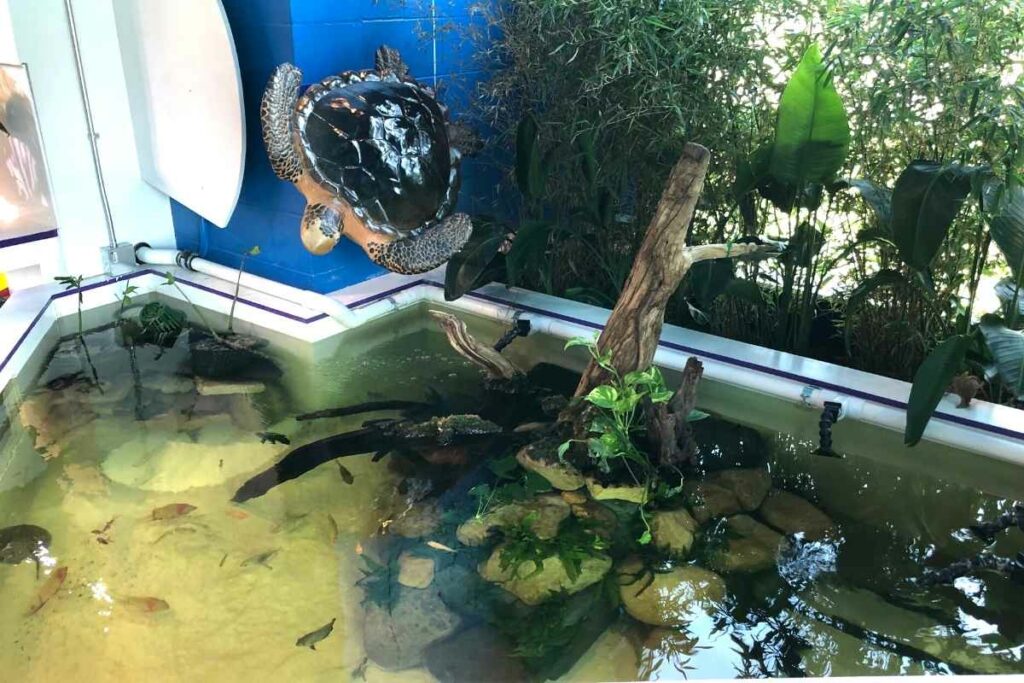 Incredible Saltwater Reef Lagoon and Coral Tanks
The saltwater room is the showstopper! Immediately when you walk in, there is a huge 10,000-gallon reef lagoon. It is filled with rocks, corals, and creatures big and small. Many of the fish are curious and will swim over to see you. If you're lucky, you might catch a feeding and get to see a lot of the resident fish coming up to the surface or out of the rocks and coral to grab their snacks. We saw the cutest little crabs that live in a coral in the front right of the tank. Also, keep an eye open for large spiky urchins among the coral and rock! The intimate experience and relaxed pace reminded us of visiting the aquarium at Discovery World in Milwaukee.
Note: Be sure to talk in advance and provide reminders to keep hands (and any objects) out of the water to help the fish here to be safe and healthy! All of the fish are permanent residents of the lagoon for visitors to enjoy and have grown up from tiny babies as the owners worked to get everything in place.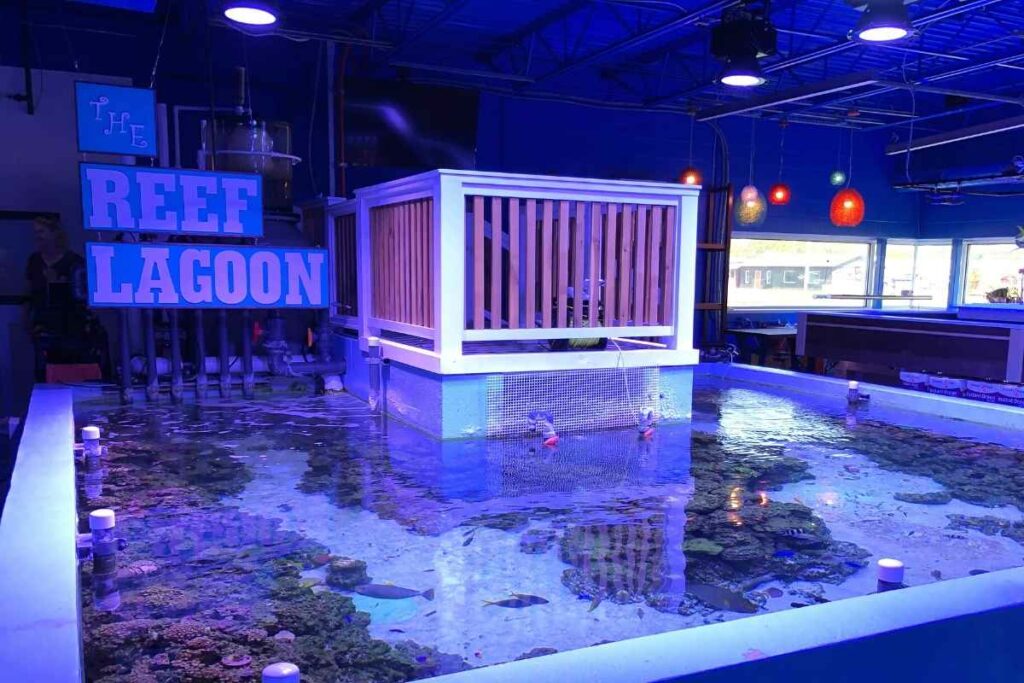 Enjoy Different Views of the Lagoon
There is a raised platform that gives you a completely different view from what you observe from the ground. Be sure to check it out by climbing the short set of stairs on the right side of the lagoon.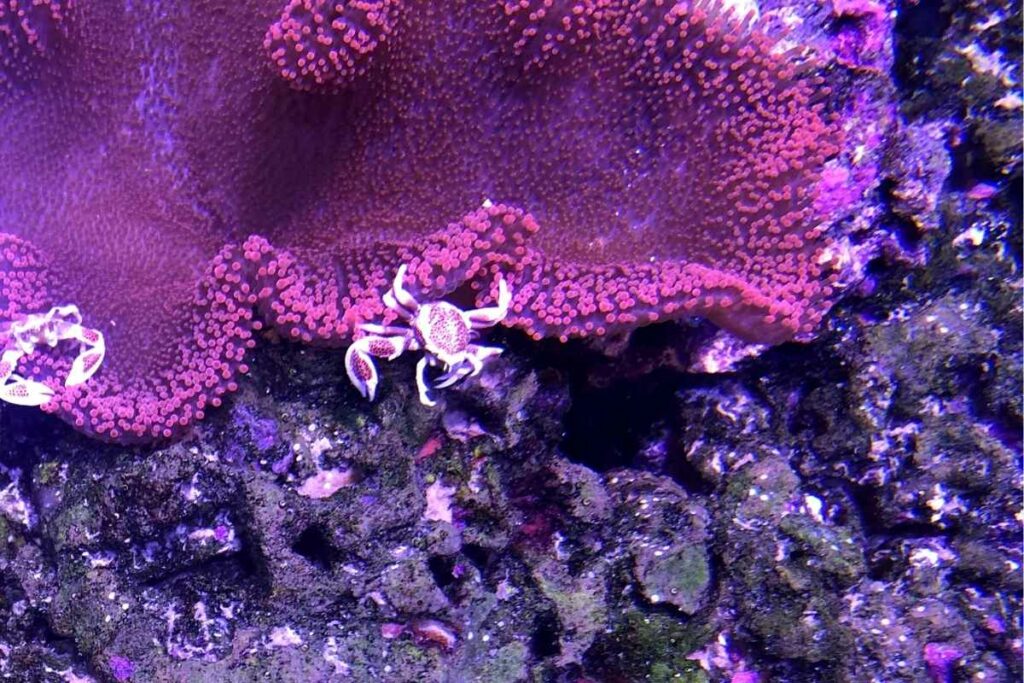 To the left of the lagoon, there is a small bench to take a seat and watch what's happening. With so much happening in the tank, it is a great opportunity to play eye spy.
Bright Corals and Fun Creatures
To the right of the lagoon, there is a shallow, open tank full of colorful corals as well as rock-dwelling sea creatures to observe. In the corner is a seahorse tank that has soon-to-be parent seahorses! Look up to see a lighting installation that looks like urchins and check out the orchids that are enjoying the warm humidity of the room in the large window.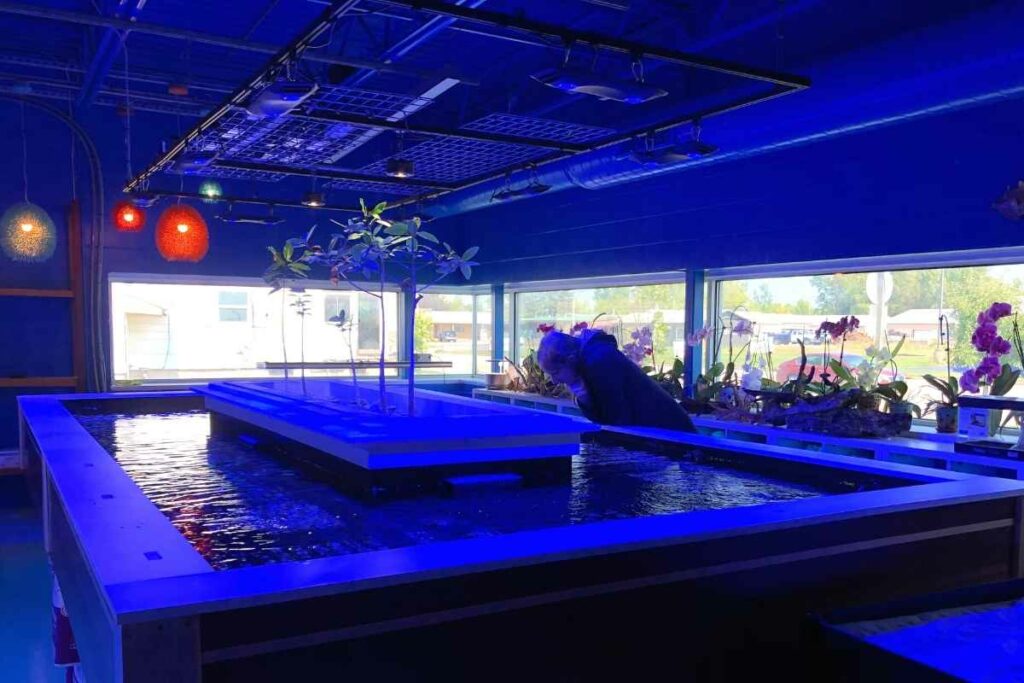 Left of the lagoon are tanks of small corals and with a large display cube in the middle. The back wall is lined with colorful and unique fish that are for sale. There are many different tangs that are fun to watch. We walked by the tanks multiple times and noticed things we'd missed the first time around! The wall at the front of the room is a home for clown fish that have paired off will-be parents down the road. If you peer below the coral racks, you'll find even more interesting fish and there are some snails to spot hanging around.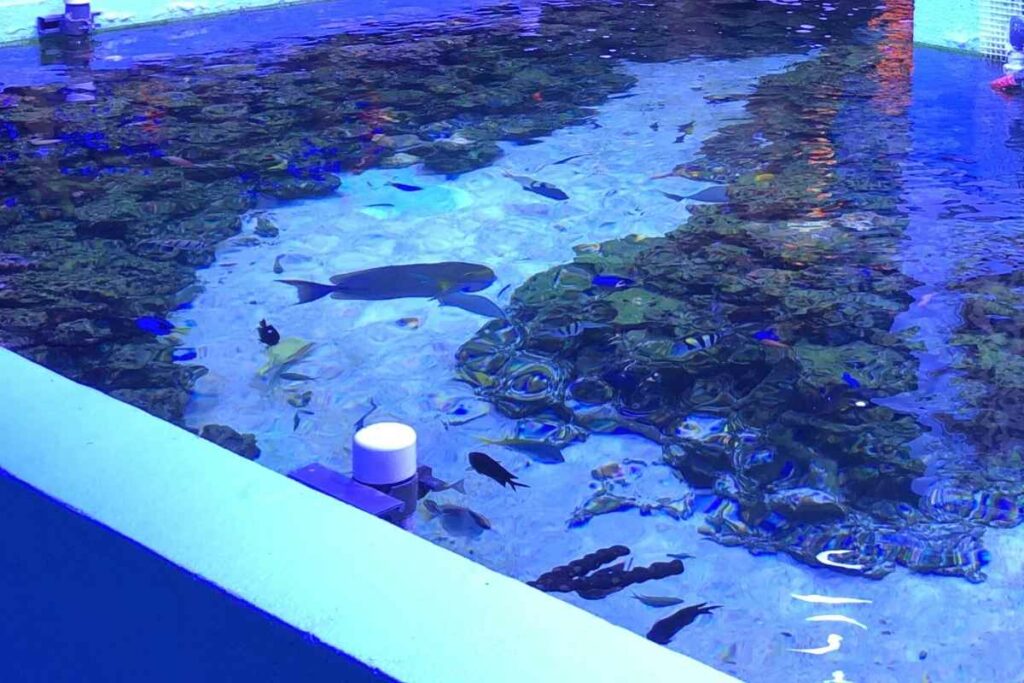 They're also an Educational and Aquaculture Center
The owners and staff are super friendly. They hope families will visit even if they aren't involved in the hobby of aquarium keeping. If you have questions about anything you see, don't be shy to ask, they have a lot of knowledge to share! We learned about the process of getting their new adventure built and open to share with the community, it has been a labor of love, and they are excited to be able to welcome visitors to the store.
What is Aquaculture?
Aquaculture is breeding, raising, and harvesting fish, shellfish, and aquatic plants. Basically, the crew at Sanctuary Aquatics are farmers of gorgeous corals, plants, and fish. Aquaculture is an environmentally responsible source for the plants, fish, and other creatures that make up home aquariums. The practice helps to create healthier habitats, and is used to rebuild stocks of threatened or endangered species. Behind the scenes here, there are more tanks and buildings where this work takes place—all of the corals for sale here were also grown here. In the near future, they will offer field trips and tours for groups and schools for even more in-depth learning about the marine life living at Sanctuary Aquatics and their aquaculture adventures.
Sanctuary Aquatics, 2923 Jackson St, Oshkosh, Wisconsin
Hours: Tuesday-Sunday, 12 – 6 pm
Admission: Walk-ins start at $5/person / Reservations start at $4/person
More Things to Do With Kids in Oshkosh