If you're looking for a great pool to cool down in with your family that's a little more off the beaten path than the Omro Family Aquatic Center is just the ticket! Located just 8 minutes west of Oshkosh in Omro, this pool offers both a zero-depth entry-level beach all the way up to 12 feet of diving fun. There are plenty of other great amenities, including FREE admission for kids 3 and under, that makes this pool worth the short drive west this summer.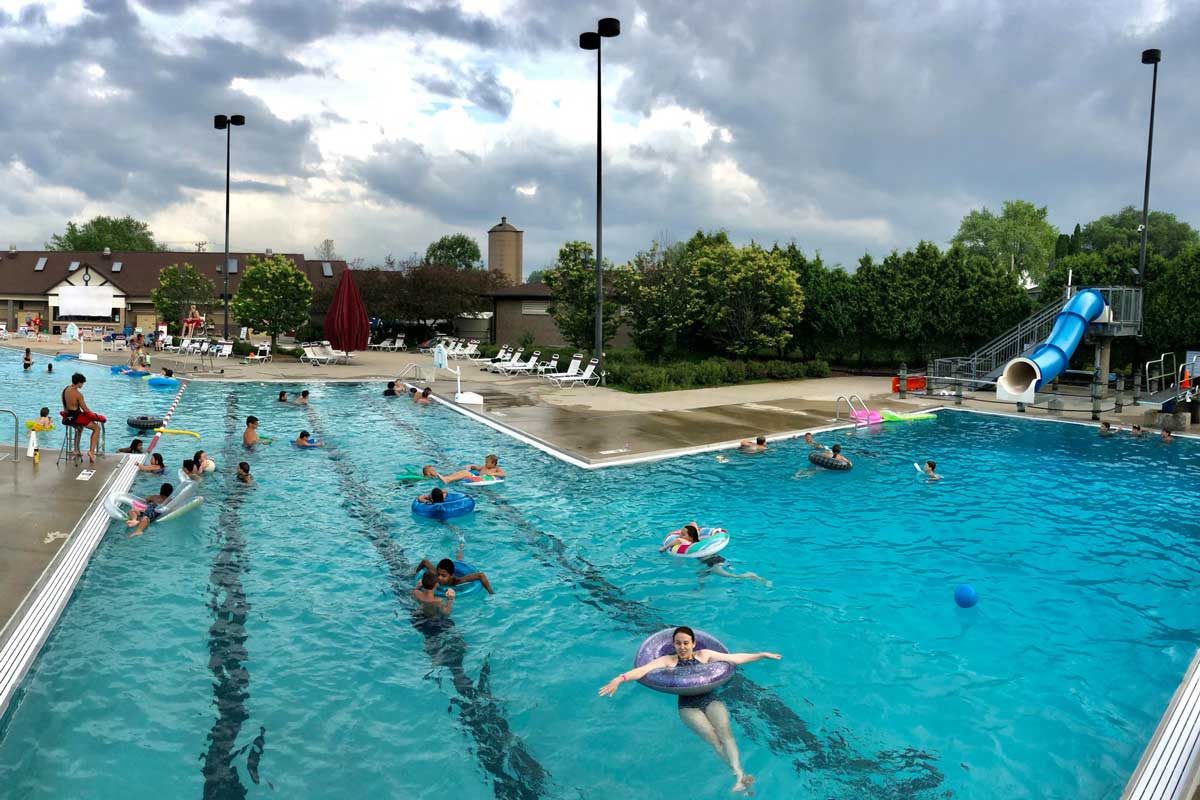 Pool Highlights
Zero depth beach entry
12-foot diving well
Water is always 80 to 82 degrees- little ones can play without freezing!
Two intertwining spiral slides, a plunge flume slide and a frog-shaped toddler slide
Diving board, water jets and other fun water features
Swimming lessons, water aerobics and private party rentals are available
Summer 2022 Schedule
Opening Date: Thursday, June 9, 2022: 12 pm – 7 pm
Closing Date: Sunday, August 21, 2022: 5 pm
Hours:

Open daily 12 pm – 7 pm
July 4, 2022: 1 pm – 4 pm
Admission
*Credit cards are accepted for admission with a 3% service fee.
Children 3 and under: FREE
Children 4-17: $3 (noon – 5 pm), $2 (5 pm – 7 pm)
Adults 18-54: $4 (noon – 5 pm), $3 (5 pm – 7 pm)
Seniors 55+: $3 (noon – 5 pm), $2 (5 pm – 7 pm)
Seniors 65+ (non-swimmer): FREE
Frequently Asked Questions
Are life jackets allowed? NO – this included puddle jumpers, inflatables, pool noddles, etc
Are food & drink carry-ins allowed? YES – no alcohol or glass and all food must be eaten in the concession area. Only capped drinks are allowed on the pool deck.
At what age can children swim independently? Kids 7 and under need a chaperone age 16+ to be in the water with them.
Can we bring our own pool toys? YES – just no flotation devices (including pool noodles) or mermaid tails.
Is there a swim test for deepwater areas? YES – required for everyone 18 and under in order to use the lap/deep areas, drop slide, or diving board.
At what age can children use the slide independently? You must be either 3.5 feet tall or pass the swim test. If they don't pass one of these two, then they need to ride with someone 16+ years.
OFAC Special Events
The Omro Family Aquatic Center offers a handful of family-friendly special events throughout the summer!
FREE Swim Nights 2022: 5 pm – 7 pm
Tuesday, June 21, 2022
Tuesday, July 19, 2022
Tuesday, August 16, 2022
Flick n' Float
Enjoy a movie while you float in the pool!
Friday, June 24, 2022
Friday, July 15, 2022
Friday, August 12, 2022
Admission: $2/person + normal evening admission. $2 only for season pass holders.
Special pricing starts at 7 pm & the movie will begin at dusk (around 8:45 pm).  Bring your personal floating device for the movie and a blanket to stay warm! Concessions will be available for purchase!
Omro Family Aquatic Center
Omro Family Aquatic Center, 1241 Kiwanis Street, Omro, WI
920-685-0781
Nearby Ice Cream
Omro Pharmacy, 328 E Main St, Omro

Serving all the old favorites in its Soda Fountain and Ice Cream Parlor!

Cheese House American Diner, 230 W Main St, Omro

Over 80 flavors of Cedar Crest ice cream that rotate daily

The Well Drive-In, 705 E Main St #9724, Winneconne

Just north of Omro in Winneconne, drive-up style soft serve ice cream treats
Are you looking for another great ice cream option closer to home? Check out Ardy & Ed's Drive-in in Oshkosh!
If you are a grandparent looking for fun things to do with your grandkids in Oshkosh, we've got you covered!